Craig Smith Farewell
2013 Farewell - Immediate Past Division Commander Craig Smith
On Sunday, 12 May: Several members who worked with Craig over the years gathered with him at Salmon Bay Cafe (Craig's favorite breakfast/meeting place) to honor his many years of service to Division 2. Flotilla 21 Commander Matt Kirchner prepared a video program of highlights from Craig's tenure with Division 2 which played during the breakfast. Most of the photographs were from Scott Dittberner of Flotilla 24. The video presentation will make the rounds of the Flotillas during the next month or two.
Commander Kent Chappelka, D13 DIRAUX presented Craig with the AUXILIARY COMMENDATION MEDAL. The Citation accompanying the medal reads: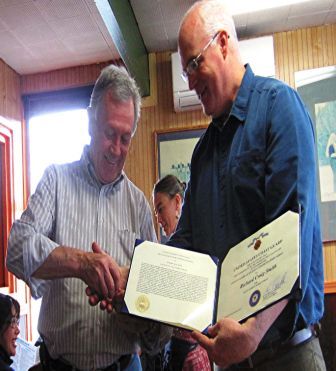 "Mr. SMITH is cited for outstanding achievement in the performance of duty while serving as a United States Coast Guard District Thirteen Division 2 member and leader from 2006 to 2013.
Under his leadership as Commander in 2011 to 2013 the Division had an impressive record. Despite challenges from continuing resolutions, Patrol Order Management shutdowns and national debt ceiling debates the Division under his guidance achieved over 700 vessel safety checks, 140 boater education classes, 6,900 operational mission hours and 40,000 other mission support hours.
In addition to these achievements Mr. SMITH used his knowledge of the Alki Point Lighthouse to be one of the Coast Guard's best ambassadors to over 14,000 visitors from 29 different countries who enjoyed tours of this iconic symbol of Seattle.
Mr. SMITH not only led from the top but from any position available as exemplified by his also serving as a Public Affairs Officer, Publications Officer, Vessel Examiner, Program Visitor, Instructor, Flotilla Vice Commander, Flotilla Commander and Vice Division Commander.
Mr. SMITH's peers consistently praised his enthusiasm and willingness to help in everything from offering rides to members without cars to taking any chance to assist shipmates improve their skills.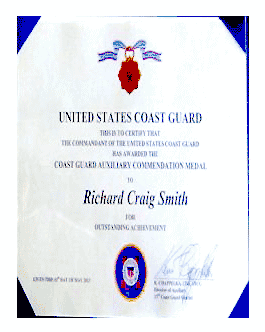 When the District Commander made $25,000 available for Auxiliary leadership training Mr. SMITH was key to the course's success by teaching time management for leaders to improve their effectiveness. The training was praised by all and scheduled for repeated delivery. Mr. SMITH used his legal expertise to deliver much appreciated continuing education to active duty lawyers. This training would have cost upwards of $1,500 in private industry. All these achievements were only possible with the investment of immense amounts of time beyond anything Mr. SMITH would ever ask recognition for. Mr. SMITH's dedication and devotion to duty are most heartily commended and are in keeping with the highest traditions of the United States Coast Guard and the United States Coast Guard Auxiliary."