Alki Point Lighthouse Tours
CLOSED FOR THE SEASON
Sorry to have missed you but the Light House is closed for the season. The light continues to watch properly and we will be there to greet you Memorial Day Weekend 2019.
---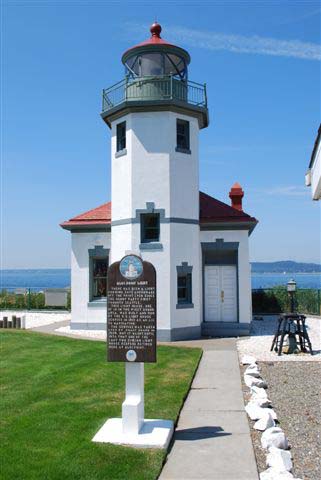 The Alki Point Lighthouse is a functioning, fully automated aid-to-navigation on an active US Coast Guard site. The Lighthouse is one of eight lighthouses on or near Puget Sound open to visitors.
Located near Alki Beach in the West Seattle neighborhood, you can see the West Point Light Station in Discovery Park (north), Puget Sound vessel traffic and the Cascade Mountains (west). Mount Rainier (south) can be seen on clear days.
US Coast Guard Auxiliarists are proud to provide public Lighthouse tours on summer dates. Due to the nature of the site, tours may sometimes either be shortened or canceled on short notice. Any closed dates will be listed on this page and also communicated via our Facebook account. Please note that the schedule for 2018 has changed from prior years and that tours will only be available on Sundays.
Address:
3201 Alki Avenue SW
Seattle, WA 98116
Hours:

We will be open for public tours each Sunday afternoon from 1 to 4 p.m. from Sunday, May 27, 2018 (Memorial Day Weekend)
through Sunday, September 2 (Labor Day Weekend). The last tour starts at 3:45 p.m.

Admission:
Free

Access:
No wheelchair access. Narrow concrete pathways and uneven surfaces.

Pets:
No pets on the grounds please.
Restroom:
No. Public restrooms are located on Alki Beach.
Note:
Children under 6 may go to the landing immediately below the ships ladder but not to the very top of the lighthouse.
The final metal spiral ships ladder to the top is steep and requires two hands to climb.

Parking:
Small public parking lot directly in front of the site. On street parking can generally be found nearby.
Contact:
Please contact the Alki Lighthouse Project Officer at alkilighthouse@cgauxseattle.org if you have any questions.