Division 2 Member Training
Welcome to the Division 02 Member Training Area
See the
sub-menus
to the left
for more information about training opportunities and other valuable information for members of the USCG Auxiliary in Division 130-02.
---


A word for members from other Divisions - Please feel free to sign up for any of the Division 2 member training classes shown here, just be sure to do so using the sign up page noted above. Your home Flotilla will be responsible for providing you with any course materials such as Student workbooks or other reading matter, consult with your Flotilla MT, MA or FC. If you have questions please contact SO-MT 02 via Auxdirectory.
All Upcoming Training information can be found on the What's Happening Page as well as the Division 2 calendar. Links to sign up pages are provided as available. Please contact your FSO-MT or the SO-MT for additional information.
New Core Training on AUXLMS
The Department of Homeland Security, the Coast Guard and the Auxiliary have jointly established what is believed to be the base knowledge level needed by our members. This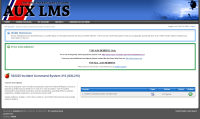 training has been mandated September 2011 and revised in 2017.
You can fulfill your Auxiliary Core Training requirements by completing them online via the Coast Guard's Auxiliary Learning Management System (AUXLMS).
Using AUXLMS, you can take all core training (AUXCT) as well as getting access to other training such as ICS-210. Completion of training modules will automatically be recorded in AUXDATA and downloaded on a regular basis to the other systems.
A second/third/fourth route is to download or view the various courses yourself using this web page. The options are watching a video (with sound), downloading and viewing a Power Point presentation or downloading and reading through an Adobe file. Choose which ever method works best for you -- a mix of methods also works, you will then fill out the self-certification form and send a scan of it to the SO-IS of Division 2 for entry in AUXDATA.
---
FEMA courses may be done online. Many of the courses are open to members of the Auxiliary, click on any course in the menu for additional information, instructions and registration.
---
What's New in Training (from the T-Dept)
Find the latest training-related information on the
What's New
page of the National Training Directorate.
Want to take an on-line class that requires a Proctor?
Use AUXDIRECTORY to request the services of one of the Division 2 Proctors or reach out to your FC for assistance.
Proctors are required for all AUXOP tests other than AUXSC&E. All tests are on-line only except for AUXNAV-Part B which must be arranged in advance through your FSO-MT (and a Proctor is required).
The series 70 NAVRULES exam (initial Coxswain exam) also requires a Proctor for the electronic version - QEs have access to a hard copy exam which can be administered by a QE or a Proctor. Series 90 NAVRULES (every 5 years for a Coxswain) is on line only but open book.
If you have AUXOP status and want to be a Proctor, contact the Division Commander for information on the simple process to become one.
---
C Schools are Coast Guard resident courses usually lasting a long weekend or even up to one full week. Travel and lodging is often covered by the Coast Guard (or the Auxiliary) - check the C School Page for information about C Schools and how to apply if you are interested.
Instructor Development Course -This will be handled on a one-on-one basis. Contact your FSO-MT for information.