VESSEL SAFETY CHECK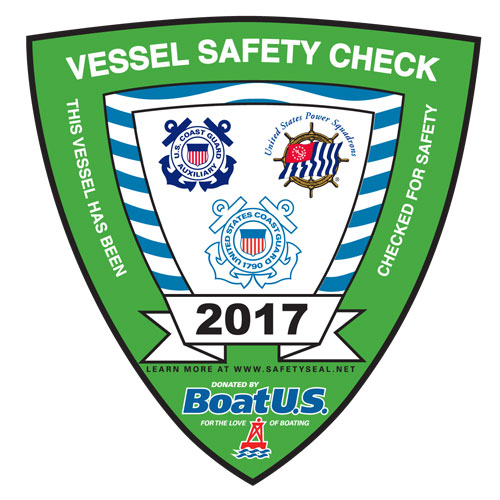 FREE VESSEL SAFETY EXAMS
Vessels passing safety checks are awarded a U.S. Coast Guard / Auxiliary Decal that informs:
Coast Guard / Auxiliary
Harbor Patrol
Sheriff's & Police
other boating law-enforcement & safety agency's
that your boat was in full compliance with all Federal and State boating laws during a safety check for that year. Best of all every Vessel Safety Check is 100% Free of charge!
No appointment is necessary, but you can conveniently pre-schedule a safety exam for your powerboat, sailboat, or paddle craft such as paddleboard, kayak, or personal watercraft (i.e. Jet Ski), by contacting Eric Gritzmacher (949-632-2378 eric.uscgaux@gmail.com
About Vessel Safety Checks
A Vessel Safety Check (VSC) is a FREE inspection of your boat to verify the presence and condition of safety equipment that you are required to have on board your vessel by State and Federal regulations.
Our Vessel Examiner (VE) is a U.S. Coast Guard Auxiliary member and certified specialist. In addition to FREE inspections; VEs also make safety recommendations and discuss issues to assist you in safer boating.
What if you don't pass?
If your boat does not pass inspection -- no report is filed. Instead, you are provided with a confidential written report signed by the Vessel Examiner that helps you correct any deficiencies.
Best of all, if you take the signed report to your local, participating marine retailer you may receive a discount on your purchase -- but call first to verify dealer participation.
When you request and pass a re-inspection, contact your insurance agent to learn if you qualify for any discounts.
Schedule a Vessel Safety Check Today!
Please include in your subject line: "I WANT A FREE VESSEL SAFETY CHECK"
---
How to Prepare for Your FREE Vessel Safety Check
To prepare for your Vessel Safety Check, you can conduct a Virtual Do-It-Yourself preliminary check.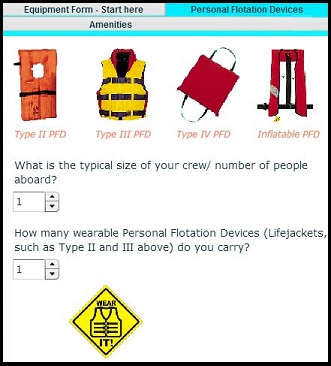 ---
The Official VSC Manual
If you want to know more about Vessel Safety Checks -- the Auxiliary publishes an official manual.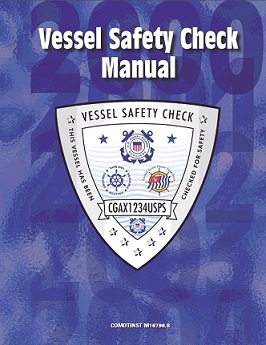 ---
Disclaimer Notice
Links to non-Coast Guard entities are not under the control of the United States Coast Guard nor the United States Coast Guard Auxiliary and are provided for the convenience of our visitors. They do not, in any way, constitute an endorsement of the linked pages nor of any commercial or private issues or products presented therein. We cannot make any warranty or representation concerning the content of these sites, nor that of secondary sites from the pages to which they link.
Privacy Statement
This Web Site DOES NOT use 'cookies' to collect information from or about users of the site. E-mail links and forms are provided as a means for visitors to contact USCG Auxiliary members for additional information or to make comments. The sender's return e-mail address or other information will be used only to respond to your comments and questions and may be made available to other members of the Auxiliary for that same purpose only.This web site contains links to other external web sites. If you decide to utilize any of the external links, you will be directed to a site that is not covered by our privacy policy. We recommend that you read the privacy statements of these sites since their policies may differ significantly from ours.