Welcome to the Flotilla 6-8, District 11SR Web Site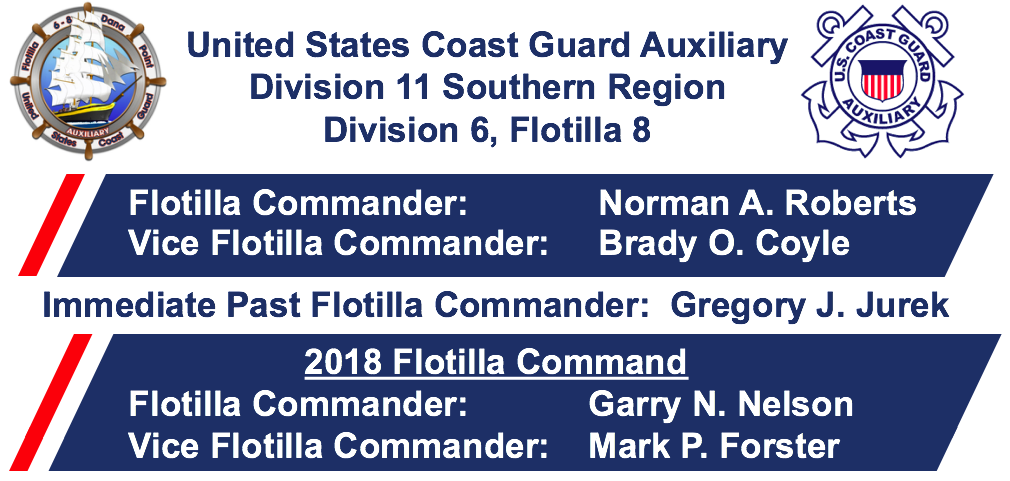 The U.S. Coast Guard Auxiliary consists of some 28,000 dedicated men and women who serve in uniform as America's Volunteer force. "Auxiliarists" complement U.S. Coast Guard Forces, which consist of over 50,000 dedicated men and women who serve in uniform as Active-Duty and Reserve personnel, and as Civilian employees.
Our Mission
The primary mission of the U.S. Coast Guard Auxiliary is Recreational Boating Safety. Flotilla 6-8 is the lead unit responsible for providing support in Southern California's Dana Point Harbor and surrounding waterways.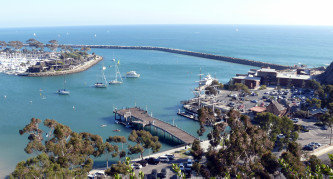 The Auxiliary also participates in any mission as authorized and directed by the Commandant of the U.S. Coast Guard, or the Secretary of Homeland Security.
Flotilla 6-8 balances Recreational Boating Safety Missions with support for the safety and security of our people, maritime ports, and waterways to protect against post-9/11 emerging challenges. Our unit conducts various missions that include:
Boating Safety Courses

Vessel Safety Checks for FREE, for the Boating Public

Recreational Boating Safety

Recruiting for all service in the Coast Guard

Safety and Security Patrols

Boarding Platform Inspections

Commercial Fishing and Vessel Exams

Homeland Security

Mass Casualty and Disaster Support

Pollution Response and Patrols

Search and Rescue
UPCOMING FLOTILLA EVENTS
MAY 2017
5/20 Flotilla Meeting 0830 (moved meeting date for Memorial Day weekend patrols)
JUNE 2017
6/24 Flotilla Meeting 0830
(TENTATIVE) Sea Partners in the Back Bay June (TBD)
JULY 2017
7/22 Flotilla Meeting 0830
7/26 – 8/9 Every Wednesday PE Event Sailing Skills & Seamanship (3 weeks) 7-9pm DPYC -$20
AUGUST 2017
8/22 PA Event Dana Point Emergency Expo new location,PA Booth,static PWC display, Coastie?
8/23 Public Education Event Basics of Marine Radio (1-night) 7-9pm DPYC -$20
8/26 Flotilla Meeting 0830
SEPTEMBER 2017
9/6 - 9/27 Public Education Event GPS for Mariners(4 weeks) 7-9pm -$35
9/9 & 9/10 PA Booth for Tall Ships (1 or 2 days Coastie?)
9/9 & 9/10 (TENTATIVE) Flare shoot at tall ships in conjunction with OCFA and OC Sheriff
9/16 (TENTATIVE) Dana Point Underwater Cleanup, PA Booth
9/23 or 9/30 date TBD Flotilla Meeting 0830
OCTOBER 2017
10/22 Wings, Wheels & Rotors Los Alamitos Airfield, we can work a booth set up (562) 598-6659
10/28 Flotilla Meeting 0830 (incl. Flotilla elections)
NOVEMBER 2017
11/25 Flotilla Meeting 0830
TBD COW (Flotilla Change of Watch)
Toys-4-Us drive, reminder of December's giving deadline
DECEMBER 2017
NO FLOTILLA MEETING DARK
Flotilla Holiday Party TBA
4 nights of Holiday Parade Lights, PA Booth, Coastie
Your Role in Homeland Security
September 11 commemorates the remembrance of the 9/11 terror attacks upon our nation. Vigilance is the watch-word of the day as we collectively reflect upon the lives lost on that tragic day, and the steps we have taken as a nation to ensure that it never happens again.
While our first responders and military forces have taken the lead on safety and security in the decade since, individuals can and do play an important role in making our communities and nation more secure. Homeland Security is a subject that every member of the public has a role in which to serve.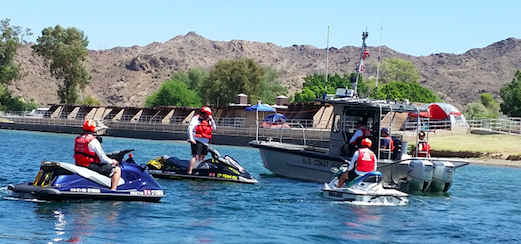 The U.S. Coast Guard partners with the Auxiliary, federal, state, and local agencies to keep a vigilant watch upon our national waterways. However, with more than 95,000 miles of domestic coastline to protect, the Coast Guard and our partners must also rely on alert individuals. Homeland security begins with hometown and harbor security; working together we can build a strong foundation for a secure and resilient homeland in our communities.
See Something, Say Something
One of the programs that places all members of the public at the forefront of supporting our national security is the Department of Homeland Security campaign known as: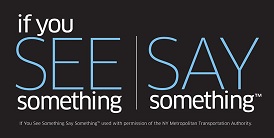 The goal of this program is simple: if you hear or see anything suspicious tell local authorities about it. By raising public awareness of possible terrorist indicators and by encouraging members of the public to report suspicious activity to authorities, our nation is further strengthened in its ability to protect against threats.
America's Waterway Watch
The U.S. Coast Guard and the Auxiliary enlist public support in reporting suspicious activity on the water with:

The goal of this program is to encourage the public who is familiar with our nation's coastlines to assist federal, state, and local law enforcement agencies by being observant and attentive in recognizing possible threats and crimes on and around our waterways. No one knows what is the local norm better than the members of the public who live, work, or play in or around America's waterfront communities.
But members of the public do not have to live on the coast to keep a watchful eye. America's rivers, bridges, tunnels and inland ports are all places where community members can make a difference by reporting unusual activity to local law enforcement authorities.
Every member of the public plays a role in keeping our nation safe; because Homeland Security begins with hometown and harbor security; and an alert and informed public is necessary to keeping our neighbors safe.
Semper Paratus
The United States Coast Guard motto is "SEMPER PARATUS" (Always Ready) against all threats and hazards.

"Always Ready"
---
Disclaimer Notice
Links to non-Coast Guard entities are not under the control of the United States Coast Guard nor the United States Coast Guard Auxiliary and are provided for the convenience of our visitors. They do not, in any way, constitute an endorsement of the linked pages nor of any commercial or private issues or products presented therein. We cannot make any warranty or representation concerning the content of these sites, nor that of secondary sites from the pages to which they link.
Privacy Statement
This Web Site DOES NOT use 'cookies' to collect information from or about users of the site. E-mail links and forms are provided as a means for visitors to contact USCG Auxiliary members for additional information or to make comments. The sender's return e-mail address or other information will be used only to respond to your comments and questions and may be made available to other members of the Auxiliary for that same purpose only.This web site contains links to other external web sites. If you decide to utilize any of the external links, you will be directed to a site that is not covered by our privacy policy. We recommend that you read the privacy statements of these sites since their policies may differ significantly from ours.