Welcome to the Division 7, District 11NR Web Site
welcome to division 7
Mon, 13 Jan 14 Posted by: Rex Miner
Division 7 Utah

Welcome to the Official Website of the
U.S. Coast Guard Auxiliary, division 7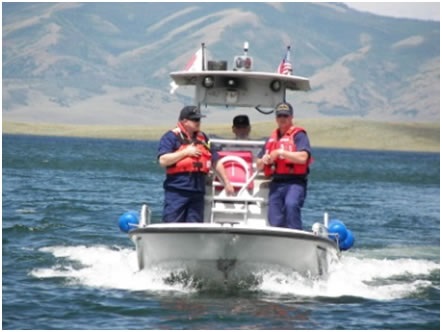 U. S. Coast Guard Auxiliary Division 113-07, which includes most of the state of Utah, is part of the 11th Coast Guard District (Northern Region), which covers northern California, Nevada, and Utah. Division 113-07 ("Division 7") is based in Salt Lake City, Utah, and provides Coast Guard services throughout most of the state of Utah and parts of Wyoming.
We are a volunteer organization staffed by people who care about boating safety and the welfare of their fellow boaters. We are people who want to enhance our boating knowledge and skill with America's premiere boating organization.

Our primary activities and missions include small boat operations, search and rescue, public education, aquatic event safety, and vessel safety examinations.

While the members of Division 7 do not perform direct law enforcement or national defense activities, when needed we provide support for local/state/federal law enforcement agencies or active duty Coast Guard units. We also participate in joint training exercises with local and state law enforcement agencies.
Division 7 works in close cooperation with the Utah Department of Natural Resources to provide operational support at various state parks, consisting primarily of boating safety patrols, aquatic event safety, and search & rescue, along with public education activities to educate Utah's boating public.
U.S. Coast Guard Auxiliary