Welcome to the Flotilla 39-8, District 9WR Web Site
Chicago Air Flotilla
For a list of current Flotilla Activities including classes and workshops see the "Activities" link on the menu.
When We Meet
Our flotilla normally meets at 7:30PM (1930Hrs) p.m. on the Third Monday of every month, at Schaumburg Airport (06C) in the conference rooms of the FBO terminal building. Fly-ins are welcome!
Click for DIRECTIONS
Who We Are

Our flotilla currently consists of 39 members who actively patrol the Lake Michigan shoreline from Michigan City, Indiana to Sturgeon Bay, Wisconsin. We regularly meet with the boating public at marinas and in classrooms.

As the civilian, volunteer arm of the U.S. Coast Guard, auxiliary members enjoy all the rights and obligations of Team Coast Guard and serve in all missions authorized, except law enforcement. Reporting directly to Air Station Traverse City, Flotilla 3-8's missions include search and rescue on the volunteer patrol vessels. Whether you own a boat or not, the auxiliary's extensive trainingprograms bring a greater sense of readiness, awareness and pride to its members. Located in Chicago area, for over 30 years we have served the over 5,000 local area boaters and transients, from Great Lakes to Racine, with courtesy vessel examinations, public education classes, life-saving search and rescue, communications and camaraderie.

The United States Coast Guard has long been involved with aviation. Beginning in 1915, the Coast Guard used a Curtiss flying boat as the test of whether aviation was practical for search and rescue. Today, air is one of the major components of the Search and Rescue missions of the Coast Guard. Members who are private pilots volunteer their services and planes just as other members volunteer their boats and boating skills.


What We Do
Our Flotilla is involved in all missions of the USCG Aux but we also are interested in the unique mission of Air Operations. As the only flotilla in the 9th Western District to focus on this mission our flotilla offers a unqiue oportunity for members to participate in one of the most challenging aspects of the USCG Aux. Often times we are called upon to supplement the active duty or to provide direct support to their mission. Air Operations involves many aviation related missions. Here is a list of the missions that our pilots might normally fly:
* SAR Mission - Search and Rescue call out or the air equivalent to a vessel safety patrol. During a SAR mission, aircraft fly predetermined search patterns based on complex algorithms. These algorithms are based on last known or assumed position, wind, current, and type of vessel that is missing.
* Enforcement of Laws and Treaties - Air support of a Coast Guard mission to monitor major fishing areas.
* MEP Mission - Air support in the area of Marine Environmental Protection. Missions include support of locating and estimating sizes of oil slicks, and other environmental accidents.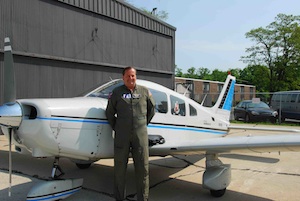 * Logistics Mission - Transportation of personnel and equipment. Auxiliarists transport individuals for all types of Coast Guard support and humanitarian support.
* Training Mission - Training missions involving air operations and coordination with land and surface vessels to hone skills needed to support the aims and missions of the United States Coast Guard.
* VIP transportation and Area Familiarization for Coast Guard personnel.
There is a new concentration on Maritime Domain Awareness (MDA). The objective is to spot and report unusual activities, commercial vessel movements and environmental problems. Missions are conducted with one or two pilots and an observer. The pilot concentrates on flying the aircraft and the observer reports and coordinates mission activities with the Coast Guard Station.
During an emergency call-out, Auxiliary pilots and crews are available to lift off from their airfields on short notice on weekdays. On weekends during boating season they are normally either in the air or at the airfield ready to fly. These men and women, like their boating counterparts, volunteer their time and energy, and aircraft to assist the Coast Guard.
Benefits of Membership

We are constantly looking for qualified members. United States citizens 17 years of age and older without a felony conviction are welcome to join us.

Members are eligible to receive the world's finest on-the-water training. Courses are offered in Navigation, Seamanship, Communications, Weather, Patrols, and Search & Rescue.

Other optional benefits include the Coast Guard Credit Union, access to Coast Guard Exchanges, and insurance coverage.

The pride of wearing the Auxiliary uniform is amplified by the Auxiliary awards system. Your efforts will be recognized and rewarded.
Opportunities


We have numerous opportunities for members to become involved in all aspects of boating:

Public Education - Teach courses on boating safety, navigation, and seamanship to recreational boaters of all ages.
Vessel Safety Checks - Give free safety checks to recreational and commercial fishing vessels.
Operations - Provide boaters and the Coast Guard helpful information and emergency assistance.
Marine Environmental Protection - Help promote clean waterways through marine pollution awareness programs that help to recognize, protect and assess the environment.
Recruiting - Build a stronger Coast Guard team through promoting awareness of career opportunities for service.
Administrative Support - Assist the Coast Guard in areas such as computer operations, radio watchstanding, publications and public affairs.
Fun & Fellowship

Our dedication to boating safety provides a congenial atmosphere for getting together to exchange boating experiences. You'll find a special camaraderie among Auxiliarists. We're sure you will make long lasting, meaningful relationships.

Knowing that you belong to a special group of people and directly participate in helping to save lives gives your membership a special meaning.