Meeting Schedule/Events
Flotilla 39-4 is having joint meetings with Flotilla 39-2

The meetings are held at the Prairie Lakes community center located at 515 E Thacker St. Des Plaines on the third Wednesday of each month at 1830hrs.

(http://wow.uscgaux.info/content.php?unit=095-39-02)

Upcoming About Boat Safety courses, please sign up to help out!
Saturday, March 1st 2014 - 8:30am – 5:00pm - 1 Day Full ABS Class
Please find the flyer below for the upcoming NINTH DISTRICT – WESTERN REGION Conference. The training conference is being held March 21 - 23 in Lisle, Illinois.
Put it on your calendar! There are many valuable training sessions being offered and it's right in our back yard.
/Uploads_wowII/095-39-04/Coast_Guard_Spring_March21_23_2014_final.pdf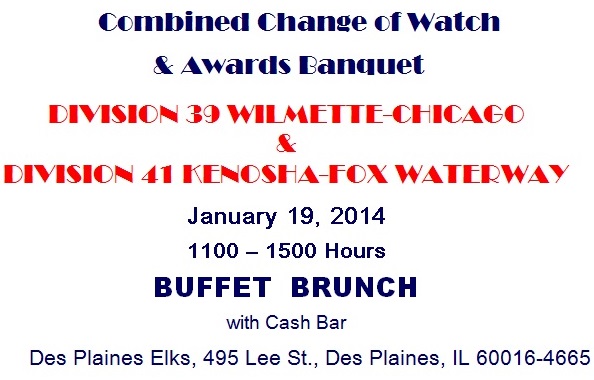 For more information download the attached document:
/Uploads_wowII/095-39-04/COW_Banquet_USCGAux_Div_39_2014_email_pg.doc
Chicago Boat and Strictly Sail Shows

The Chicago Boat and Strictly Sail Shows are not official 39-04 meetings. However, members are encouraged to sign-up to help promote the Coast Guard Auxiliary.
The signup pages for the Strictly Sail, as well as the Chicago Boat show are online and noted below:

Chicago Boat, RV and Outdoors Show: January 16-20, 2014

Location:
McCormick Place, North Building
2301 S. Lake Shore Drive
Chicago, Illinois 60616
www.cgaux9wr.com/events/ChicagoBoatShow
Strictly Sail Show: January 23-26, 2014

Location:
Navy Pier, Festival Hall A&B
Chicago, Illinois 60616
www.cgaux9wr.com/events/StrictlySail