Vessel Safety Checks
Vessel Safety Exams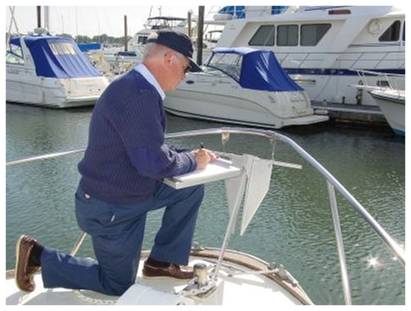 During the exam we will check for all the items that are required by law. If you are missing items we will simply let you know what these items are so that you may get them on board. If you are missing any of the required items you will not be given the decal, however once you have all the items let us know and we will be happy to check the boat again and issue you a decal!
Required Items are:

Registration numbers properly displayed on boat

Proper registration paperwork on board

Life Jacket for each person onboard

All Navigation lights working

Sound producing device (horn)

Engine Compartment blower fans working

Visual distress equipment (flares, flags) MAY be required

Back fire flame arrestor in place

Fire extinguisher

Pollution placard

MARPOL trash placard on boats 26' & over w/ enclosed machinery

Suggested Items:

Two Way Marine Radio

Dewatering device

Anchor with line

First Aid kit

Person in water kit

Inland distress signals

~~~~~~~~

Not only will we look for these items we will

take time to talk to you about any safety or

boating concerns you may have !

Reminder this is a FREE exam and is

totally done on a volunteer basis.
| | |
| --- | --- |
| | The U.S. Coast Guard Auxiliary will perform a complimentary safety check of your boat, confirming that you meet both federal and state requirements for safety. Purely advisory, the Auxiliary issues no citations and does not report the results of the safety check to any enforcement agency, but will award a decal to display that your vessel has passed the examination. This was formerly referred to as a Courtesy Marine Examination. |
The Vessel Safety Check gives you a quick and easy way to check that you are ready for the coming season. The items that are checked include

Personal Flotation Devices (life jackets)

Registration and numbering

Navigation lights

Ventilation

Fire extinguishers)

Distress signals (flares, horn, etc.)

Battery cover and connections
Note that these same items are required by state and federal laws and, if missing or non-operating, can result in a citation if your vessel is inspected by the Coast Guard. The Vessel Safety Check offered here gives you a risk-free way to check that you meet the legal minimums.
How Do I Get My Boat Examined?

You may wish to ask your Marina office to schedule a Vessel Exam or enter your contact information on-line by clicking on the following link:

Kathleen Groves is the Flotilla 35-09 Staff Officer for Vessel Exams.

She can be reached at: kgroves_cgaux@yahoo.com (773) 682-4359