Vessel Safety Checks
Vessel Safety Checks
We highly recommend you get a free Vessel Safety Check every year. It's a great review of the mandatory & recommended equipment required for your boat and an outside reviewer may catch something you missed because it's too familiar to you. For a free & confidential Vessel Safety Check, email Flotilla2.2.Ithaca@gmail.com or call 315-720-3624. Leave a message if you don't get an answer and we'll return your call.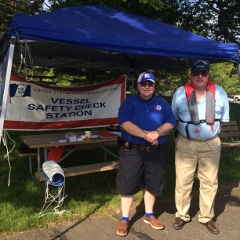 Dave & Gene at Allan H Treman Marine Park for Vessel Safety Checks
Whether you're experienced or new to boating, a good start from the comfort of your home & computer, is the "Virtual Vessel Examiner" (VVE) - see tab just below this one. Note that the VVE uses "Flash" software so cannot be run on most, if any, smartphones or tablets.
Merchants and Marine Dealers Can Become Program Partners
Do you own a marina, sporting goods store or bait shop? If so, please consider becoming a "Program Partner."
Details are here