Paddlecraft Safety
New Paddlecraft Videos
Paddlecraft, especially kayaks and Stand-Up Paddleboards, are soaring in popularity. Unfortunately, so are the number of serious accidents, including fatalities. The Coast Guard issued a Paddlesport Safety News Release on July 15, 2016 highlighting some basic safety measures people should take.
If you like "apps", the US Coast Guard has a useful mobile app, as does the American Canoe Association, entitiled Paddle Ready.
The Auxiliary is actively partnering with other organizations to educate the paddlecraft community through multiple outreach channels. Additional ideas to promote safety are always welcome.
Discover Better Boating is a short video offering some paddlecraft safety legal requirements and hints. Also, the American Canoe Association has put together this helpful paddlecraft Top 10 Safety Tips list. Check it out.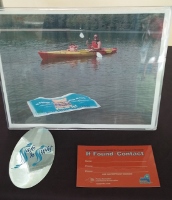 Ro Woodard, Education Specialist with the NYS Deptment of Parks, Recreation and Historic Preservation, developed the "Safe 'n Sight" decals shown (lower left) for paddles. One hazard for kayakers is not being seen by motor boaters. These "Safe 'n Sight" reflective decals are designed to help. Kayakers can also help themselves by wearing brightly colored clothing & life jackets, and adding the orange reflective "if found" information stickers (available from the Coast Guard Auxiliary, NYS Parks and American Canoe Association) to your kayak. If you hava a dark colored kayak, you might also consider marking it with orange or another bright colored duct tape.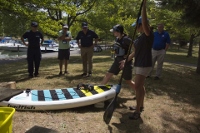 American Canoe Association (ACA)-certified instructor Jennifer Miller giving kayak safety tips during Allan H. Treman Park's July 9, 2016 Marine Safety Day, co-sponsored by the Coast Guard Auxiliary.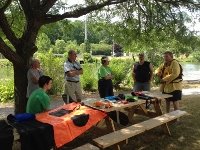 Gene Little leading an optional kayak safety discussion following a Flotilla 2-2 taught "About Boating Safely" class.