Flotilla 26-04 Events
Summer 2017 Flotilla 26-04 Station Changes Hands
US Coast Guard AUXOP Station Alpena has changed names this year as the unit assumes a new designation of US Coast Guard Station Small Alpena. In previous years Station Alpena has been manned by a mixed crew of Active Duty, Reserve and Volunteer crews. These crews have operated several different vessels together over the past several years locally on Lake Huron. Now that the station has been upgraded to Station Small it falls under the command of US Coast Guard Station St. Ignace. Boat Crews of Station Small Alpena will still be manned by Active Duty and Reserve crews but the role of the Auxiliary will be geared more towards maritime domaine awareness safety patrols, and public education in the local areas. The Auxiliary in Alpena regularly perform courtesy vessel safety inspections for public boaters for free.
Summer 2013 Flotilla Activities
The 4th of July kicked off at 11:00am with the annual parade which leads straight to the NOAA Museum, along the Thunderbay riverside. Coast Guard Station Alpena and Coastie were there raising public awareness about boating safety.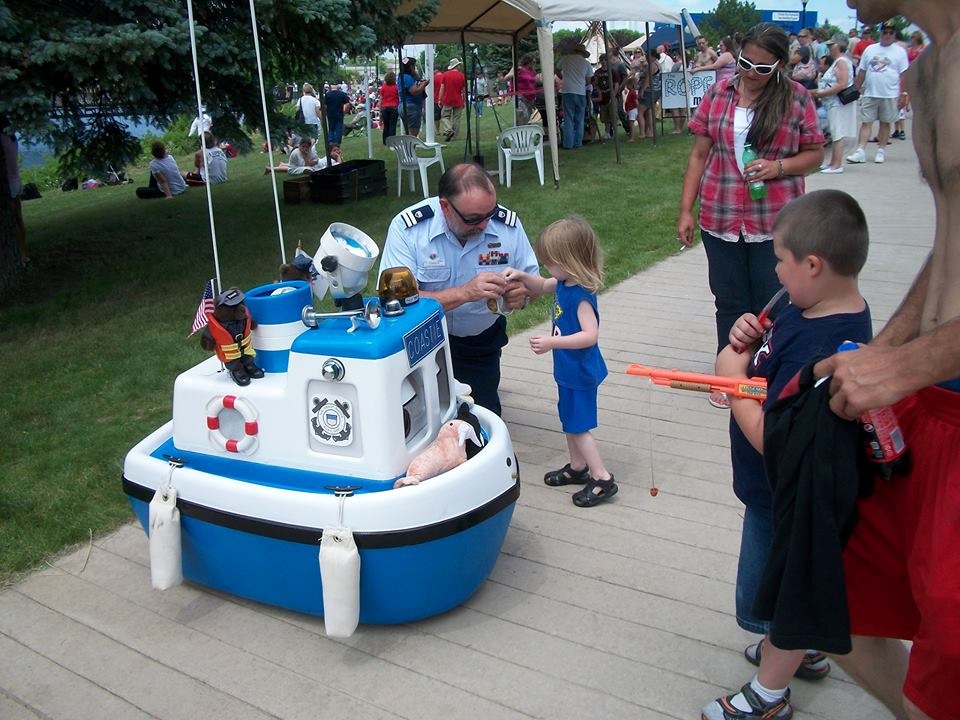 AUX Jeff Carrier introduces Coastie the Safety Boat to the kids
AUX Lauri Keranen passed out boaters safety information to the public.
All of the above photos were taken by AUX Gail Hoeft.
Summer 2012 Flotilla Activities
The 2012 Operational Season for Flotilla 26-04 was a bust season that included crew training activities, numerous vessel safety check events, and a wide range of public safety demonstrations and community activities. Included below are photos from many of these flotilla activities.
"Disaster Drills":
Conducted in cooperation with several emergency providers, Station Alpena crew demonstrated life jackets, flares, and other safety equipment to young people as part of an educational outreach to future members of our boating community.
Trying on life jackets ("PFD's"):
A visit from the Admiral:
Admiral Michael Parks (shown on the right), the operational commander of the Ninth Coast Guard District, which spans the five Great Lakes, Saint Lawrence Seaway and parts of the surrounding states, including 1,500 miles of international border, visited Station Alpena in August for an inspection and a discussion of Coast Guard mission priorities. Admiral Parks leads 6,000 Coast Guard active duty, reserve, civilian, and auxiliary men and women serving at 77 subordinate units and on the District staff. The Admiral was accompanied by Capt. Joseph McGuiness (shown on the left), the Commanding Officer for Sector Sault-Saint Marie, the authority that controls Station Alpena.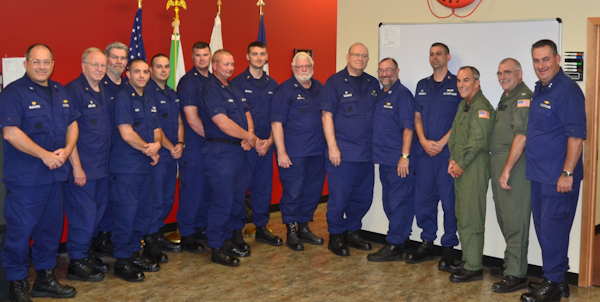 Vessel Examination Blitzes:
An important function of the Coast Guard Auxiliary is to assist the boating public with properly equipping their vessels with the Federal and State required safety equipment. Many Vessel Safety Examination days are help throughout the summer to provide these courtesy examinations. There are no charge for this Auxiliary service and no violations are reported. The purpose of the exam is to work with boat owners to properly and safety equip their boats for safe operation on the waters of Thunder Bay and lake Huron.