Welcome to the Division 24, District 9CR Web Site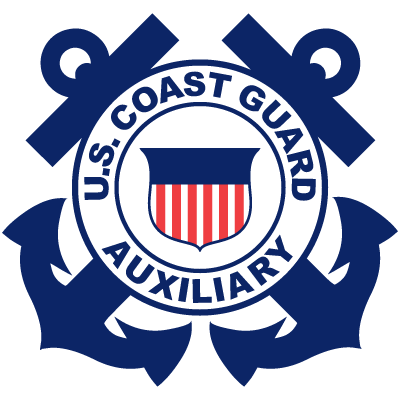 Division 24 Ninth Central Region
The Board and Staff of Division 24 9th Central Region
Welcome You To Our Web Site
Check out the Events and Activites listing in the side menu for a list of upcoming events such as:
Vessel Safety Checks, Safe Boating Classes, local events and Flotilla Meeting Schedules.
What Do You Want To Know?
(To learn more, click on applicable line)
---
WHAT IS NEW IN DIVISION 091-24?
Motor Life Boat 36391, USCG Retired, is on an extended visit to the Great Lakes eventually heading to final retirement at the new Coast Guard Museum at New London, CT.
The 36391 has been lovingly restored by Glen Cathers and Naomi Fisher of Tillamook, OR. It visited most of the CG stations in District 13 and was then trucked to Duluth to start its Great Lakes adventure. And in case it looks familiar its slightly older (and one model version prior) than the most famous of all CG Motor Life Boats, the 36500 immortalized in the Disney film Their Finest Hours.
On 2 July the 36391 visited CG Station St. Ignace before heading out on the next day for Beaver Island.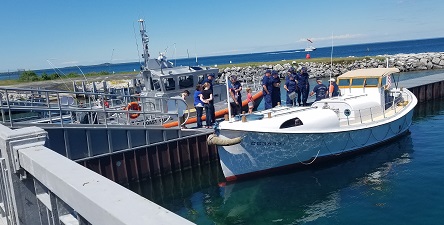 USCG Auxiliary Photo by Garrison Bromwell
In late July or early August the 36391 and her intrepid crew will visit Station Saginaw River and Station Tawas. Stay tuned to this web site for more information as it develops and plan on visiting this historic Coast Guard Motor Life Boat.
---
THE NEWEST MEMBER OF FLOTILLA 24-01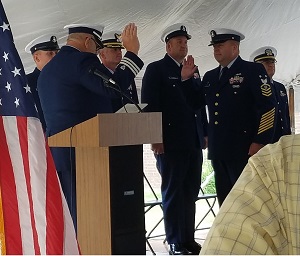 Division Commander Robert Wolff swears in the newest member of Flotilla 24-01. BMCM Michael Beatty, USCG Retired, takes the member's pledge just moments after being relived of Command of Station Saginaw River. The ink wasn't even dry on his retirement papers when he raised his hand in the new member's pledge. Welcome aboard Mike!
USCG Auxiliary Photo by Garrison Bromwell
FOCUS ON QUALIFICATIONS
From time to time, the Division 24 web site will place a focus on various qualifications - what they involve, how do you obtain them, and how do you keep them. After the time in the spotlight the information will move to the member training section so you can look them up at a later date.
---
OPERATIONAL QUALIFICATIONS - CREW MEMBER, COXSWAIN, PWC OPERATOR
What does each qualification do?
The Crew Member handles the lines, serves as a lookout, operates the helm and radio and does basic navigation under the leadership of the Coxswain. All boat movements require at least one Crew Member - more on larger facilities.
The Coxswain is in charge of the mission, the crew, and the safety of all concerned. All surface facilities require a Coxswain (other than PWCs) as well as a Crew Member. Missions will only have one Coxswain, other Coxswain qualified members will be Crew Members on that particular mission.
The PWC Operator (PWO) operates his or her personal watercraft (PWC) either with another PWC or under the control of a "mother ship".
What's required?
All Operational Qualifications have a qualification process that is involved and takes a heavy time commitment to achieve.
All missions are on a team basis and all operations personnel must work as a team, particularly in aspects of mission safety.
There are stringently maintained annual and tri-annual requirements for keeping the qualification active.
How do you become qualified?
For All Operational Qualifications:
Take a 4 hour TCT Class taught by an Auxiliary TCT Facilitator
Complete the AUXCT (Core Training) courses
Have evidence of the completion of a Boating Safety Course (in a classroom with a proctored exam)
After you have completed the requirements in the Qualification Guide you will stand for an oral board given by a Qualification Examiner (QE) who is either Auxiliary or Active Duty.. You will then go on a check ride with the QE to cover the on the water parts of the qualification process.
For Crew Qualificaton
Complete all of the requirements for BQ status including ICS 100 and ICS 700. You may become Crew Member qualified while in AP (approval pending) status.
Complete the all of the requirements of the Crew Qualification Guide (downloadable from here

) - Note - you will work with a mentor to complete the in-port tasks and then participate in multiple training missions on an Auxiliary facility as a person in addition to the crew (trainee).
For Coxswain Qualification
You must have BQ (or AX) status
Have 28 hours underway as a Crew Member.
Take and pass the Series 70 Navigation Rules exam (closed book, proctored)
Take additional ICS courses (200, 210 or 300, and 800)
Take and pass an open book Operations Policy Exam
Complete all of the requirement of the Coxswain Qualification Guide. You may do so while serving as a Crew Member on an Auxiliary Facility.
For PWO (Personal Watercraft Operator)
You must have BQ (or AX) status
Complete all of the requirements of the PWC Qualification Guide. Note - you need not be Crew or Coxswain qualified to be a PWO but if you are many tasks are waived - consult the guide.
How do you stay qualified?
All qualifications require a minimum of 12 hours per year (Coxswain may be in the role as a Crew Member).
All qualifications must have a QE review session (underway tasks) every 3 years.
The four hour TCT must be taken every 5 years, in the other years the 1 hour TCT workshop must be completed.
In years required, all operational members must take the annual operations workshop - in other years it is highly recommended.
Coxswain and PWO must take a Navigation Rules open book exam every 5 years.
There is a process to regain a lost qualification (REYR) if done within a 5 year period, otherwise the entire process has to be redone.
So What are the Rewards?
Serving your community, the general boating public and your nation.
The possibility of saving a life or otherwise assisting someone in distress.
Gaining personal knowledge as a boater by completing one of the most intensive training programs any volunteer undertakes anywhere.
Finally a sage philosopher (or drunk sailor) pointed out that the time spent on the water can't be deducted from one's lifetime -- its fun, magical at time, and a lot of work.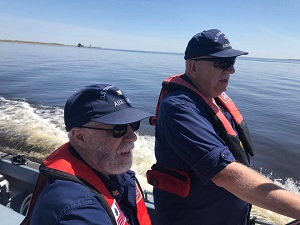 While working on their Coxswain qualification, SO-CS 02 Garrison Bromwell (left) and DCDR Bob Wolff head acroos Saginaw Bay in the 26' Auxiliary Patrol Boat.
USCG Auxiliary Photo by William Church
---
Robert Wolff Is The 2018 Division Commander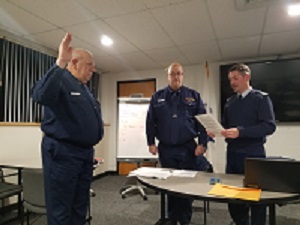 On December 20, Robert Wolff of Flotilla 24-01, was elected as the 2018 Division Commander. Ryan Petersen, 2017 VCDR, administers the oath while District Captain Chris Stevens looks on. USCG Auxiliary photo by Garrison Bromwell.
---
Questions about this web site? Questions about the United States Coast Guard Auxiliary? Contact the web master through this email address or, if you are a member, by looking up the SO-CS for Division 091-24 in AuxDirectory.
Web site last updated 19 July 18