Welcome to the Division 11, District 8WR Web Site
Division 11 - Serving the Twin Cities Area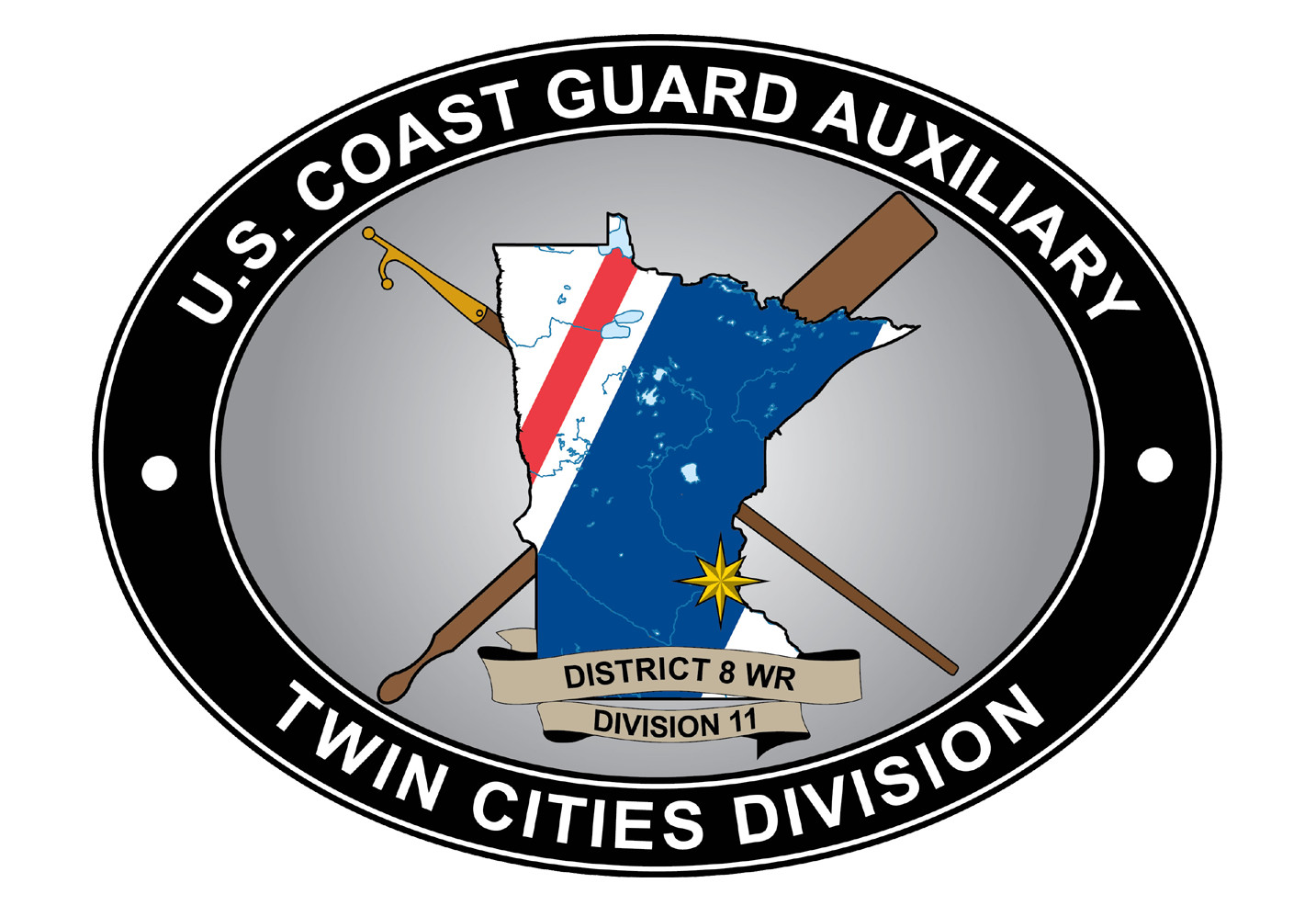 Welcome to the Twin Cities Division 11, Eighth Western Rivers Region of the United States Coast Guard Auxiliary. Based in the Minneapolis St. Paul metro area, we are proud to be a part of Team Coast Guard and the Coast Guard Auxiliary. Team Coast Guard in the Twin Cities area consists of active duty, reserves, and nearly 125 Auxiliary volunteer members in four flotillas. The Coast Guard Auxiliary is the uniformed civilian, volunteer part of Team Coast Guard. Auxiliarists volunteer their time and resources in order to augment and support the Coast Guard in their missions. The Coast Guard Auxiliary is primarily tasked with recreational boating safety, but you will find Auxiliarists participating in all Coast Guard missions except law enforcement. The Twin Cities Division is fortunate to have a Coast Guard Marine Safety Detachment located in the area staffed by active duty and reserve shipmates Where Auxiliary members augment duties of their active duty counterparts. Augmentation is primary mission and we are fortunate to have the opportunity to work side by side with them.
The Twin Cities Division has a large area of responsibility covering three major waterways. Our primary area of responsibility is the Mississippi River from the head of navigation in Minneapolis south to Wabasha, Minnesota at the foot of Lake Pepin. The St. Croix River from Stillwater. Minnesota southerly to the confluence of the Mississippi at Prescott, Wisconsin and the Minnesota River from its head of navigation in Savage, Minnesota to its juncture with the Mississippi in St. Paul.
Our missions include Safety. Security. Marine environmental protection. Humanitarian assistance. Homeland security. Service to others - in our communities, across the nation, and around the world. These are the things that Coast Guard Auxiliarists put first every day, the missions that these uniformed civilian volunteers have tirelessly performed for over seventy years.
A few of the things we do:
Safety patrols and search and rescue along local Federal river waterways.
Operational support of the Coast Guard – Assistance in facility inspections, commercial inspected vessels and uninspected vessels. Watch standing, callouts and crew augmentation.
Teaching boating safety courses to the public and offering other marine classes to the public.
Voluntary Vessel Safety Checks of recreational boats
Marine and Environmental protection activities
Support National Safe Boating Week
Public Affairs initiatives at boat, sports and travel shows and community supported river events
Thank you for visiting our site and feel free to browse the many features and missions available.