Flotilla 8-1 What's New!
Poundstone elected Flotilla Commander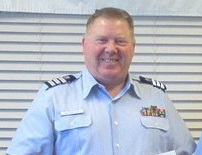 Jeff Poundstone, of Morris, was elected by members of the Illinois Valley Flotilla to serve as their flotilla commander for 2017 during the flotilla annual election of officers. Joseph Macfarlane, of Pekin, was elected as vice flotilla commander. Poundstone has served in the Auxiliary since 2010. He has served in a variety of both elected and appointed offices. He has previously been elected to the offices of vice flotilla commander, flotilla commander and division commander. He has served in various appointed positions such as: Flotilla Staff Officer - Communications, Division Staff Officer - Member Training and has previously served as Assistant District Staff Officer - Publications.
Poundstone is active in the Auxiliary's surface operations missions. He began as a boat crew member serving aboard the Auxiliary Operational Facility 2420804 "Ginger Princess" which is based at Clinton Lake in Central Illinois. He became qualified to lead surface operation missions as an Auxiliary coxswain and currently leads patrols on Auxiliary Operational Facility 2920806 "The Leper Colony" on the Illinois River and Peoria Lake areas of operations.
An Auxiliary instructor, he teaches public boating classes and is an active vessel examiner, specializing in conducting courtesy marine vessel examinations on pleasure craft. He is an Operational Auxiliarist (AUXOP) and has completed the Flotilla Leadership Course, Auxiliary Leadership and Management C-School (AUXLAMS) and the Auxiliary Mid Level Officers Course (AMLOC). Poundstone and vice flotilla commander, Joe Macfarlane, are always looking for veterans, boaters, and volunteers to join them on the water.
Grimm elected Flotilla Commander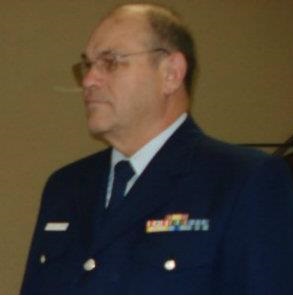 Bud Grimm was elected flotilla commander of the Big Orange 1 for 2016. He was elected at the monthly flotilla meeting held at the Coast Guard Station in East Peoria on October 17. Anna Poundstone was elected vice flotilla commander.
A member of the Auxiliary for 9 years, Mr. Grimm is an Auxiliary instructor, vessel examiner, program visitor, aids to navigation verifiers, and boat crew member. Bud serves as both the division and flotilla staff officer for information services. He earned the Recreational Boating Specialist Award in 2013. He has previously served as both flotilla commander and the commander of Division 8. He is retired. Bud and his wife Karen live in Pekin.
Congratulations Jeff Wilson
Outgoing Big Orange One Flotilla Commander and Vice Division Commander (elect) Jeff Wilson of Washington, Illinois recently put on a clinic on how to pass Auxiliary Specialty Courses leading to AUXOP qualification.
Wilson, who has been enrolled in the district's AUXOP webinar training, recently passed the Communications, Patrol, and Seamanship Specialty Courses.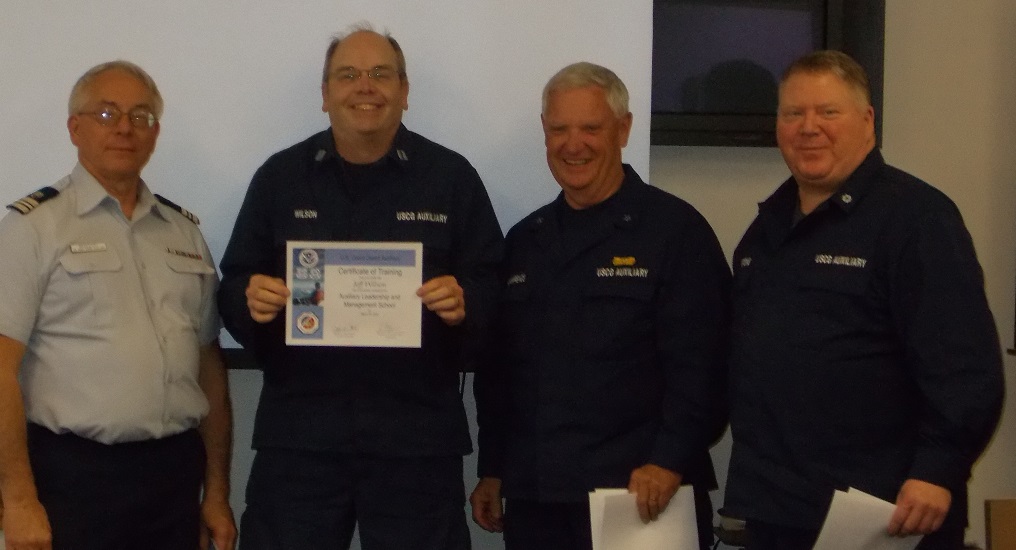 New Fingerprint Tech
Thu, 04 Dec 14
Shawn R. Burnley, FSO-MT, has recently been designated as an US Coast Guard Auxiliary fingerprint technician. Burnley both passed the Auxiliary Fingerprint Tech Course and exam and submitted samples of his work. The Director of the Auxiliary awarded the Fingerprint Tech specialty today! Good work Shawn!
Wilson Elected Vice Division Commander
Sun, 16 Nov 14
Flotilla 1's current flotilla commander was elected to serve as Division 8's vice division commander for the 2015 term. Mr. Wilson is a graduate of the Auxiliary Leadership and Management School (AUXLAMS) as well as the Auxiliary Mid-Level Officer Course (AMLOC). Below his new office insignia (VCDR) is installed by Jeff Poundstone, DCDR (left) and Butch Luhrsen, DCAPT shortly after the election was held.