Welcome to the Flotilla 3-6, District 8WR Web Site
---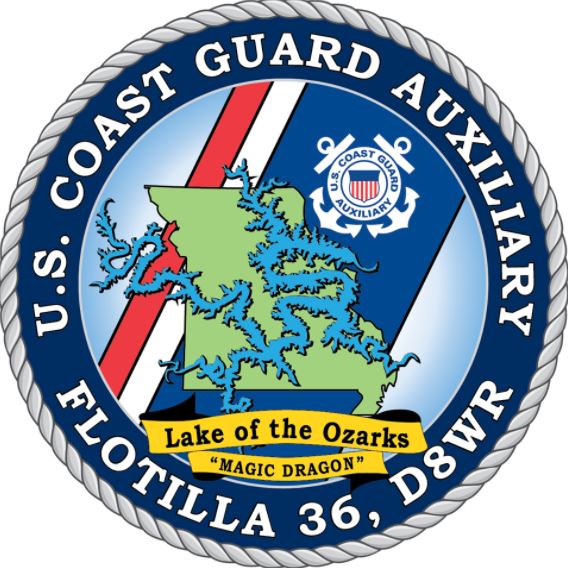 We are the guardians of "Lake Region" and extend south towards the Ozark Scenic Riverways. The United States Coast Guard Auxiliary is the volunteer component of the U.S. Coast Guard. While being the volunteer component, we assist the "active duty" with all missions except for law enforcement and direct military.
Our logo shows the lake and it's shape. This is where the lake gets the nickname "Magic Dragon".
The USCG Auxiliary is broken down into districts and the entire state of Missouri falls under the 8th District - Western Rivers and the district is broken down into divisions. Missouri is represented by three divisions, Divisions 3, 5, and 31. Lake of the Ozarks operates under Division 3. The individual "units" within the divisions are called flotillas.
The main mission for the USCG Auxiliary is recreational boating safety. The Lake of the Ozarks flotilla conducts monthly vessel examinations at Lake of the Ozarks State Park every third Saturday from MAY through September. The exams are free and are given to help educate boaters of state requirements and help make their vessels more safe.
If you have a desire to help people and believe in making our waterways a safer place, we need your help.
Consider joining our organization. Please navigate through our site and if you have any questions, please contact us.
Visit us on facebook?
We are Semper Paratus (Always Ready)!