Rich Smith
Richard Joseph Smith
1949 - 2005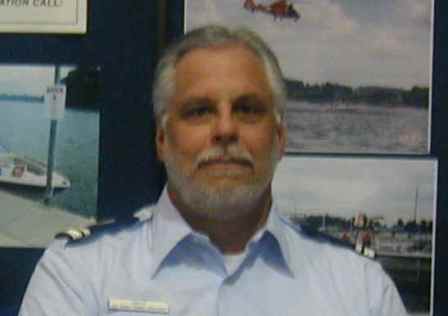 By John P. Whelan (Excerpt from the Winter 2005 edition of Division 11 newsletter, FLOTSAM & JETSAM)

After a lengthy, courageous battle with cancer, Richard J. Smith of Flotilla 11-5, passed away. His wife Patricia, daughter, Erin, grandsons, Tyler and Cory, his brother, Stan, and his parents, George and Elsie Smith, survive him.
Richard was born in Grand Haven, Michigan and grew up most of his life in Spring, Lake Michigan. He also lived in others areas such as Florida, Chicago, Philadelphia, and since 1997, in Murfreesboro Tennessee.
"He was so extremely proud to serve as the Flotilla Commander of Flotilla 11-5 of the U.S. Coast Guard Auxiliary. Unfortunately his illness did not allow him to continue to serve. Rich really loved being in the Coast Guard Auxiliary and had the heart of a great Auxiliarist. One of the last things he did in his last few weeks was get tattooed with a Coast Guard Auxiliary Emblem," says Jennie McNeil.