Keith & Carrie Vaughn
Keith Vaughn, 86, his wife Carrie, 81, were tragically killed in an automobile accident on April 18, 2000.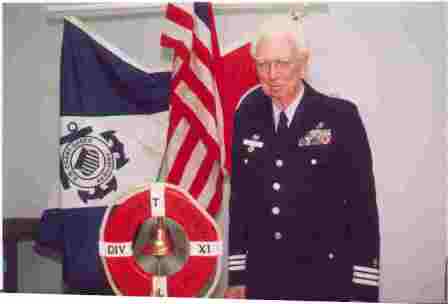 Keith Vaughn was born March 19, 1914 in Nashville, Tennessee where he attended Hume-Fogg High School and graduated from Peabody Demonstration School. Keith became an active member in the U.S. Coast Guard Auxiliary after WWII and for nearly 40 years serving as Division Captain, as a District Staff Officer, and as Flotilla Commander of 11-02. Keith obtained every Auxiliary qualification and specialty designation. Even up to the time of his death, Keith served as a coxswain, Qualifications Examiner, Vessel Examiner, Aids to Navigation, Communications and as an instructor. He is survived by sons, C. Keith Vaughn III and Sam P. Vaughn; 8 grandchildren and 4 great- grandchildren; 2 sisters, Mary Sue Cheek and Ann Poindexter.

Carrie Vaughn was born November 13, 1920 in Bedford County where she also attended school. She retired from Nashville Metropolitan Government serving as office manager at Bordeaux Hospital. She was a member of Hillsboro Presbyterian Church. Together with her husband, she became an active member of the U.S. Coast Guard Auxiliary for 30 years and served as Flotilla Commander of 11-02. She is survived by sons, C. Keith Vaughn III and Sam P. Vaughn; 8 grandchildren and 4 great-grandchildren; sister, Virginia P. Phillips and brother, Charles Pickle of Shelbyville.

"Their dream was to keep 11-02 alive and well, after all they were there to see it grow almost from the start. They meant more to me and my family than words can tell. My wife Pam said you never saw one without the other and she is right, so I'm sure they both got to see heaven together," commented Tommy Luker, Flotilla Commander 11-02.

Upon hearing the terrible news of their untimely death close friend and Flotilla comrade, Bill Marett, had this to say about Keith and Carrie Vaughn:
Keith and Carrie Vaughn WERE the Coast Guard Auxiliary in middle Tennessee, and their loss is a staggering blow to all that knew and loved them.

Keith joined the 11-02 shortly after World War II, before most of today's lakes were even built. He is responsible for more boaters being educated, more members trained, more service to his country, than any Auxiliarist to have served in this area. Carrie is a pioneer of women in the Auxiliary. She had to join in Chattanooga, because the men of Nashville refused to accept that women could serve as Auxiliarists. Today, women are not only a large percentage of our members, but serve in most of our important leadership positions. Each one owes her a debt of gratitude. Together Keith and Carrie made the Auxiliary their extended family. No social event or gathering was considered a success unless Keith and Carrie attended. No achievement was significant, unless Keith and Carrie, conveyed their approval.

The Coast Guard Auxiliary in Nashville has lost its Mother and Father. Our loss is as profound and hard to accept as if they were our own flesh and blood. they will not only be missed, but they are irreplaceable.
Bill Lauderman, PDCP Chattanooga Division also had some thoughtful words about Keith and Carrie:

I have fond memories of Keith and Carrie going back 15 years or so. And although our meetings were not all that frequent, both of these fine Auxiliarists always managed to leave something pleasant behind when we parted. It may have been just a word or two - it may have been good advice on a matter of Auxiliary concern - it was often a hint or clever suggestion about a boating issue . . . regardless, you never spoke to either of the Vaughns without coming away a better Auxiliarist and person.

Even far away from Nashville, here in Chattanooga, Keith and Carrie will be greatly missed, and "young" Auxiliarists will suffer for not having the opportunity to benefit from their experience and wisdom. They will be on our minds and in our prayers.