Jerry Van Heltebrake
IN MEMORIAM

Commodore Jerry Van Heltebrake
1929 - 2008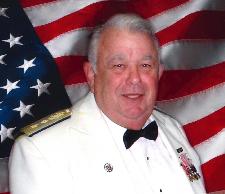 Jerry Lou Van Heltebrake born in Highland Park, Illinois, on February 1, 1929, passed away June 9, 2008.
Preceded in death by Mother, H. Mildred Schoenfeld, and Father, Leroy Heltebrake, and Son Jerry Lou VanHeltebrake. He is survived by Carol VanHeltebrake, his three daughters, Kitsie Magro, MariJo Martinez, and Trisha VanHeltebrake, and his four grandchildren, Nicole Magro, Nina, Martinez, Anthony Magro, and Carl Martinez. He is also survived by his cousin William Gans, dear friend, Ralph Kleinsorge, Charles F. Bader, a treasured friend who filled a deep hole in his heart and longtime friend Nancy Griffith who provided support and care to Jerry for many years.
Trained as a classical drummer and started his own trio playing summer vacation venues on the resort lakes in Northern Illinois. He also raced ¾ midget cars all over the Northern Illinois and Indiana race tracks. He jammed with various musicians at the Blue Note in Chicago, and in clubs on Howard Street. Some musicians he jammed with include Stan Kenton, June Christie, Mel Torme, Benny Goodman, Teddy Wilson, Cozy Coles, Oscar Peterson, Buddy Rich, and he played in some of Les Brown's pick up orchestras.
In 1954, he joined the Wilmette Police Department starting as a motorcycle policeman and retired in 1976 as a Lieutenant Shift Commander. He taught law enforcement at Oakton and Triton Community Colleges. He was a member of the Police Pistol Team where he won many marksmanship medals and trophies.
Jerry moved to Nashville, Tennessee in 1978 to manage a family business, Obie's Flying Tomato Pan Pizza on Elliston Place. Many people knew him as "Mr. V."
As a 24 year member of the U.S. Coast Guard Auxiliary, he served as Flotilla Commander, Division Captain, District Commodore, National Vice-Commodore and finally National Director for Investigative Support. Commodore VanHeltebrake most recently acted as the National Point of Contact for the Personnel Security Investigations to 16 Auxiliary Regions and Districts as well as contact for the Auxiliary's 192 Fingerprint Technicians. His qualifications included Coxswain, Qualified Examiner, AuxOp, Vessel Examiner, and Program Visitor.