Welcome to the Flotilla 7-5, District 8CR Web Site

United States Coast Guard Auxiliary
Flotilla Austin, Texas (7-5)
8th District Coastal Region, Division 7
U.S. Coast Guard Auxiliary Flotilla Austin
Austin, Texas-based Flotilla Austin (081-07-05, or Flotilla 7-5) is an inland flotilla with eleven Central Texas lakes in its coverage area: Lady Bird Lake; Lake Austin; Lake Travis; Lake Marble Falls; Lake LBJ; Inks Lake; Lake Buchanan; Lake Georgetown; Granger Lake; Walter E. Long Lake (also known as Decker Lake); and Lake Bastrop. To see the area we serve, check out this link - http://goo.gl/2lTM8U
The U.S. Coast Guard Auxiliary is the uniformed, all-volunteer component of the United States Coast Guard. The Auxiliary was created by an Act of Congress in 1939, and has grown to over 34,000 members who daily support the Coast Guard nationwide in all its missions, except combat and direct law enforcement.
Auxiliarists conduct safety patrols on local waterways, assist in Search and Rescue, teach boating safety classes, conduct free vessel safety checks for the public, provide boating safety literature to dealers, as well as many other activities related to recreational boating safety.
The Coast Guard considers the Auxiliary its primary resource for recreational boating safety outreach and prevention (see the message "From the Commandant"), and each Coast Guard District around the nation has established a senior officer and staff to provide coordination between the active-duty Coast Guard and the various Auxiliary units in that District.
In many inland portions of the country, where the majority of U.S. recreational boating occurs on lakes and rivers, the Auxiliary is the sole Coast Guard presence (as is the case here in Austin)!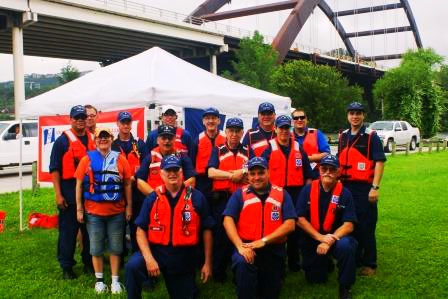 Flotilla 7-5 is one of the U.S. Coast Guard Auxiliary's 8th District Coastal Region units that focus on promoting recreational boating safety and supporting the U.S. Coast Guard in numerous other missions, including search and rescue, communications, environmental protection and homeland security.


Auxiliary Members Needed
Nationwide, Coast Guard Auxiliarists volunteer more than 4.5 million hours per year and complete nearly 500,000 missions – a true force multiplier for the U.S. Coast Guard!
Membership in the Auxiliary is open to persons 17 years of age and older. And, to join, you do not need to own a boat or take part in water patrol missions. There are numerous other ways Auxiliarists serve: everything from food service to medical assistance, inspecting ships to interpreting, public affairs, and many more. If you're interested in attending a meeting or joining contact the Flotilla Commander or Flotilla Staff Officer - Human Resources. Their contact information can be found on the "About Flotilla 7-5" page.


To schedule a vessel safety check, navigate here: http://cgaux.org/vsc/
WE'RE NOW LIVE ON FACEBOOK (https://www.facebook.com/flotillaaustin) AND TWITTER (@CGAUXATX)! CHECK US OUT!