Division 7 General Information
Judy Hair-(Article)
Charles Dekle, SO PA (Photos)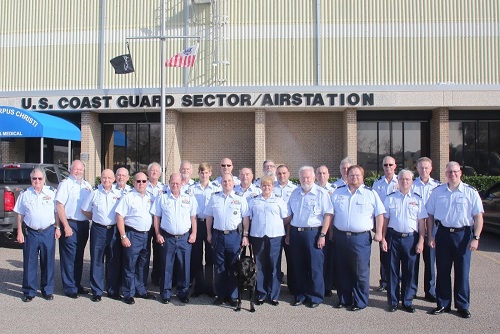 23 January, 2017
Greetings Shipmates:
First, a big thank you to Steve Smith, DCDR and Jumper Childs, VDCDR for the excellent "Kickoff".
Our 13-15 January meeting was filled with many changes including a new location at Sector Corpus Christi Training Room. No difficulties were reported to access the Air Station and many benefits were gained by incorporating ourselves with the active and reserve members of the Coast Guard. Subsequent meetings are planned for the Sector location, including the upcoming proposed 7-9 April meeting. Keep a lookout for other events on the calendar of the Division 7 Webpage.
The style of the meeting was engaging and kept on time. The Division Staff both set up, and provided meals. It is planned for the same format the next time, relieving the flotillas of hosting a meeting.
The meeting was well attended by new incoming Flotilla Commanders and their Vice Commanders, Division Staff Officers and District board. Also present was the new D8CR Director of Auxiliary, Commander Gilmore. Commander Gilmore gave an inspiring presentation about his vision for our District which was to help our division meet the goals of the Commandant of the Coast Guard. His presentation was well received and he was warmly welcomed to Division 7.
Committee breakouts, motivational ice breakers and great fellowship took place at the very busy three day conference. The meeting was well organized, and kept on track. Changes can be good!