Welcome to the Flotilla 6-2, District 8CR Web Site

Welcome to the website of the U.S. Coast Guard Auxiliary Houston Flotilla 06-02. We are proud to serve in the the Houston area supporting the U.S. Coast Guard and the general public. The links that are provided will help reinforce the professional capacities of the U.S. Coast Guard Auxiliary. This website contains information on the on the Flotilla and the Auxiliary- from its history to boating safety. If you are unable to find what you are looking for or would like more information about joining the Auxiliary, please let us know.
We hope you enjoy your visit,
Flotilla Commander
---
The U.S. Coast Guard Auxiliary is the uniformed, all- volunteer component of the United States Coast Guard. The Auxiliary was created by an Act of Congress in 1939, and has grown to over 32,000 members who daily support the Coast Guard in all of its non- military, and non- law enforcement missions. We have members and units in all 50 states, Puerto Rico, the Virgin Islands, American Samoa, and Guam.
Auxiliary members conduct safety patrols on local waterways, assist in Search and Rescue, teach boating safety classes, conduct free vessel safety checks, work with Admissions for the U.S. Coast Guard Academy, provide food serve for active duty and reserve members, as well as many other duties.
When you join the Coast Guard Auxiliary, you could find yourself saving lives, protecting the environment from polluters, guarding our shores from terrorists and much more. That's our job- 24 hours a day, 365 days a year. That's the life of the Coast Guard Auxiliary. We don't just train. We train and perform.
The Coast Guard's motto is Semper Paratus, meaning "Always Ready."
---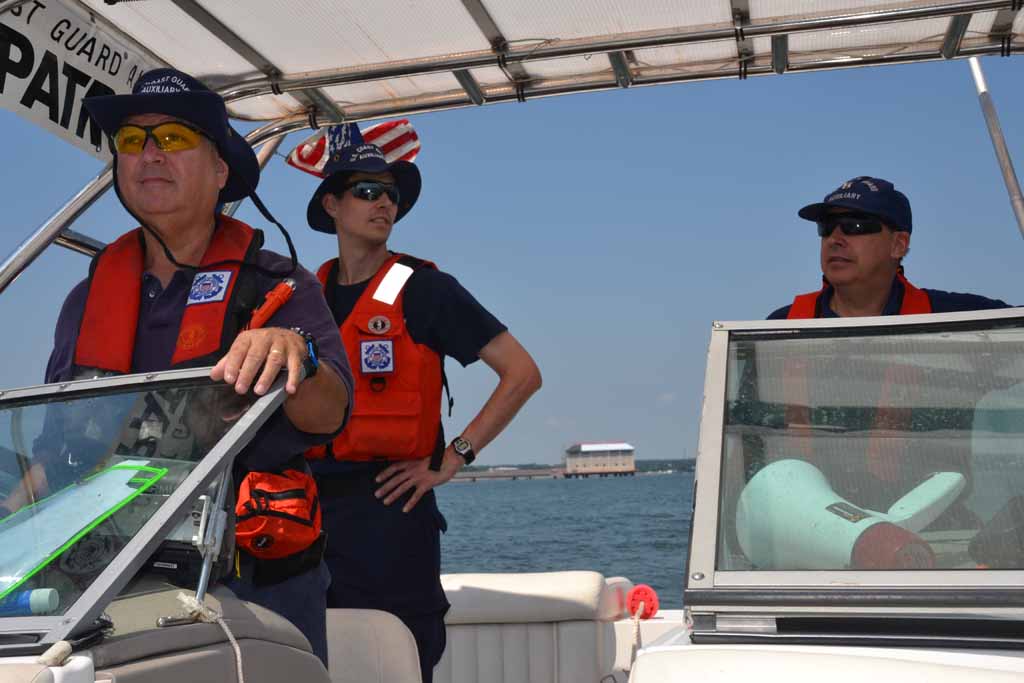 The "Cajun Cruiser II" patrolling Lake Conroe, 5 July 2014
From Left: Coxswain Al Ohliger, Crew Colin Shannon, Crew Tom Simons
Photo by: June Wingert, AUXPAIII