Welcome to the Flotilla 1-7, District 8CR Web Site

For inquiries about Flotilla 1-7, you may contact Flotilla Commander (FC) Carlene M. Mount at (850) 994-0718
Free Boating Safety Classes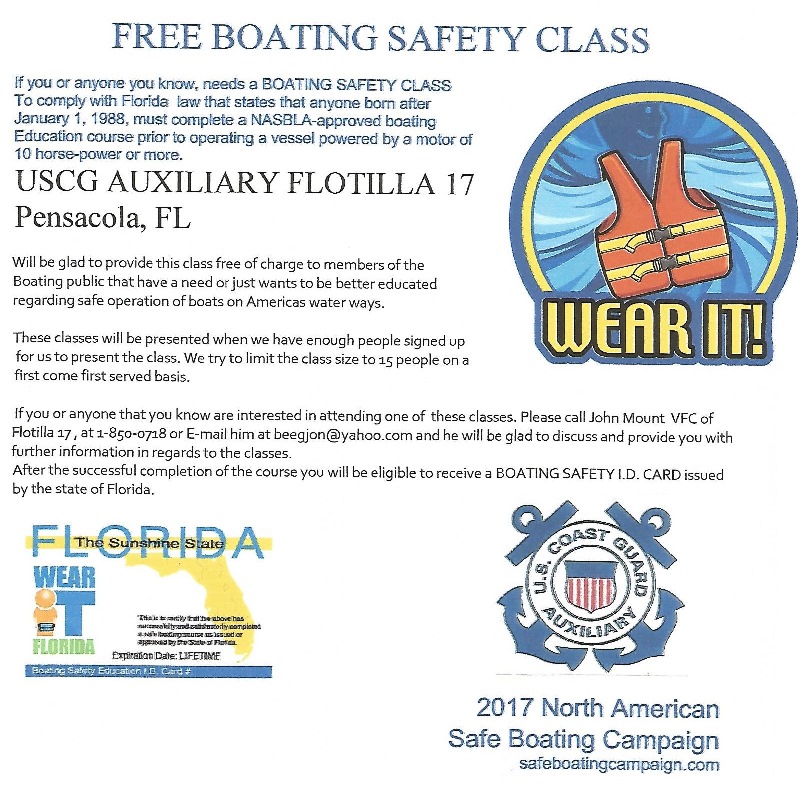 | | |
| --- | --- |
| The U.S. Coast Guard Auxiliary is the uniformed, all-volunteer component of the United States Coast Guard. The Auxiliary was created by an Act of Congress in 1939, and has grown to over 32,000 members who daily support the Coast Guard in all its non-military, and non-law-enforcement missions. We have members and units in all 50 states, Puerto Rico, the Virgin Islands, American Samoa, and Guam. | |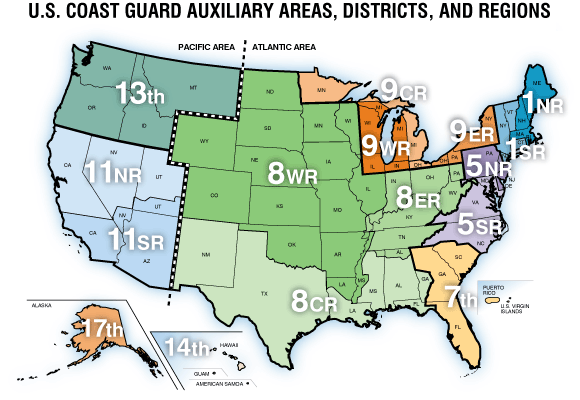 National - The national staff officers are responsible, along with the Commandant, for the administration and policy-making for the entire Auxiliary.

District -The District provides administrative and supervisory support to Divisions, promotes policies of both the District Commander and National Committee. We are part of District 8CR

Division - Flotillas in the same general geographic area are grouped into Divisions. The Division provides administrative, training and supervisory support to Flotillas and promotes District & National policy. We are Division 01 in District 8CR

Flotilla - The Flotilla is the basic organizational unit of the Auxiliary and is comprised of at least 15 qualified members who carry out the day-to-day missions of "Team Coast Guard". Every Auxiliary members is part of a Flotilla. The Flotilla is the heart and soul of the Auxiliary. We are Flotilla 07 in Division 01.