Division 1 What's New!
AUXILIARY BUILD (AUXBUILD) PROGRAM
1. Coast Guard construction, renovation, and repair projects require continuous monitoring. Many Auxiliarists possess specialized skills and experience in shore-side construction-related industries. When coupled with prescribed training and certification, the Coast Guard may leverage such Auxiliary skills and experience to monitor and report on its shore-side construction projects through the AUXBUILD program. Auxiliarists are authorized to pursue and achieve designation in the AUXBUILD program in order to assist Coast Guard Civil Engineering Units (CEU) with monitoring and reporting on their shore-side construction projects as described in the accompanying AUXBUILD Standard Operating Procedures (SOP). AUXBUILD designation and assignment to duty may only be achieved pursuant to successful completion of the AUXBUILD Personal Qualification Standards (PQS) contained in the SOP. Commodore Vin Pica shall serve as the Auxiliary's AUXBUILD program manager under the direction of the Auxiliary National Commodore and shall report to, and be supervised by, the Vice National Commodore. The regional AUXBUILD program manager shall be the District Directorate Chief for Logistics (DDC-L). In the absence of a DDC-L, the cognizant District Captain (DCAPT) for a CEU shall provide such managerial support. An Auxiliary Unit Coordinator (AUC) shall be appointed for a CEU in accordance with provisions of section 1.C.8. of the Coast Guard Auxiliary Manual (COMDTINST M16790.1, series) in order to coordinate AUXBUILD support throughout the CEU's area of responsibility.
2. To facilitate Auxiliary engagement in the AUXBUILD program, the accompanying AUXBUILD Standard Operating Procedures (SOP) will be posted on the CG-BSX-1 website ( Click Here) and the Auxiliary national website (Click Here). Auxiliarists interested in participating in this program should thoroughly review this SOP before contacting their respective regional AUXBUILD program managers.
3. An AUXBUILD competency and accompanying task (PQS completion) have been established in AUXDATA.

4. The purpose of this list is to keep Auxiliarists as well as all other interested parties abreast of current developments, policies, manuals, etc. All information contained herein and linked is OFFICIAL policy and Information.
5. Internet Release and Distribution is Authorized
AUXBUILD-SOP-FINAL-10APR17.pdf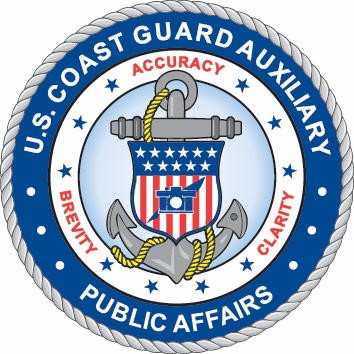 The January-February-March Edition of the Navigator Express is available online now!
Just click on the link below to read stories titled:
• USCG Auxiliary Remembers Pearl Harbor 75th Anniversary
• Mission, Leadership, Excellence
• N-TRAIN Leadership
• Met Them In St. Louis – A Personal Account of NTRAIN
• Volunteers Wanted
• Forging Interagency Bonds
• Vessel Examination Program History
• Auxiliary Scuttlebutt
• Commandant's Message
https://joom.ag/QhAW
NACON 2017
Coast Guard Auxiliary 2017 National Convention
August 23rd-26th in Orlando


NACON 2017 in Orlando -- This year's National Convention is at the Rosen Centre and as always, has a lot going on:
• Attend informative workshops where you can hone your skills, learn new ones, and consider best practices from around the country and around the world.
• Take advantage of outstanding networking opportunities with your Auxiliary and Active Duty shipmates.
• Attend the open meeting of the National Board of the Coast Guard Auxiliary for a behind-the-scenes view of your Coast Guard Auxiliary Senior Leaders at work.

You will have opportunities to meet and talk with our partners from Australia, the Dominican Republic, the Philippines, and many others who are frequently in attendance, along with some of the Coast Guard's Admirals who genuinely appreciate the many valuable contributions of the Coast Guard Auxiliary.

The workshops will have something for everyone. If you want to improve your teaching or public affairs skills, there will be sessions for you. If Paddlecraft or Personal Watercraft activity is what floats your boat, NACON 2017 will deliver. Want to improve your leadership skills so that you can help your unit in many different ways? Leadership training is on the agenda.

It's not all work and no play. Fellowship is huge part of NACON and Auxiliary life, with two major social events planned:
• Friday night's informal Fellowship Dinner's theme is "Team Spirt" with music provided by the Bahia Dance Band. Take advantage of the opportunity to meet old friends, make new ones, and put a face to that voice on the telephone you've been working with. Come and join the fun.
• Saturday night is the National Commodore's Banquet – share a formal dinner, see major awards presented, learn about issues of importance to the Coast Guard and Auxiliary, and talk with your colleagues and old and new friends.

Orlando is a destination for the whole family, so don't hesitate to bring them along and join us. Great hotel rates are available from August 18 to 29, 2017. Seize the date and see you there!