Welcome to the Flotilla 17-6, District 7 Web Site

Welcome and thank you for visiting the U.S. Coast Guard Auxiliary for central Brevard County. The Coast Guard Auxiliary is the uniformed, all-volunteer component of the United States Coast Guard. It was established by Congress in 1939 and has grown to 25,000 members from all walks of life who receive special training to support Team Coast Guard. Auxiliarists assist in non-military, non-law enforcement programs such as public education, vessel safety checks, safety patrols, search and rescue, marine environmental protection, and Coast Guard Academy youth introduction programs.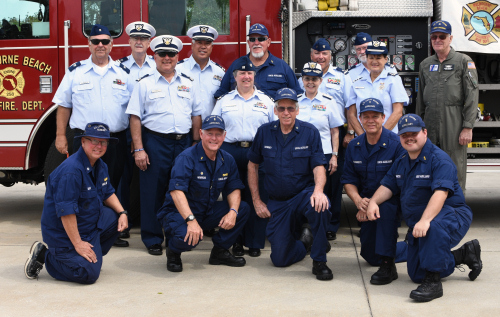 Membership in the Coast Guard Auxiliary is open to persons 17 years of age and older. Our Flotilla 17-6 operates in Brevard County from Port Canaveral to the Pineda Causeway. We enjoy working in an environment that respects diversity and we offer a climate of respect for all who join. Our meetings are from 6pm-9pm on the second Tuesday of each month except December. The location is the Veterans Memorial Center, 400 S Sykes Creek Pkwy, Merritt Island, FL.



About the Coast Guard
The Coast Guard is an armed maritime service with military, law enforcement, marine environmental protection, preventative safety, and search-and-rescue (SAR) missions. In an average day, the Coast Guard conducts 109 SAR cases, saves 10 lives, assists 192 people in distress, protects $2.8 million in property, conducts 396 small boat patrols and 164 aircraft flights, boards 144 vessels and seizes 169 pounds of marijuana and 306 pounds of cocaine worth $9.6 million, interdicts 14 illegal immigrants, processes 238 merchant mariner licenses and documents, boards 100 large vessels for port safety checks, responds to 20 oil or hazardous chemical spills totaling 2,800 gallons, services 135 buoys and other aids to navigation, safely conducts 2,509 vessels in and out of major ports, and assists 197,000 tons of shipping with its icebreakers. Yet the Coast Guard maintains the same personnel levels as it did in 1967 and is smaller than the New York City police department.
---
Contact a member today for more information!
(443) 764-7465
gobeachboy@yahoo.com