Welcome to the Flotilla 14-4, District 7 Web Site

Serving areas on the St Johns River, from the Large Jettys, in bound, past Blount Island,
to the Navy Fuel Pier and on the ICW from Nassau Sound South,
including the Ft George River, to the Palm Valley Bridge.
WELCOME TO THE BEACHES FLOTILLA!

---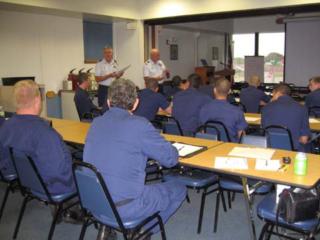 The Auxiliary's four cornerstones
:
Member Services, Operations and Marine Safety, Recreational Boating Safety and Fellowship
---
Flotilla 14-4 Performs, Boaters Education Classes, Free Vessel Safety Checks, Recreational Boater Visitation Programs, for the US Coast Guard in Jacksonville Beach, Neptune Beach, Atlantic Beach, Ponte Vedra Beach and the West Beaches area.



Our US Coast Guard Auxiliary Operational Patrols are carried out in Jacksonville Beach, Neptune Beach, Atlantic Beach, Ponte Vedra Beach and surrounding waterways. From Mayport to the Landing in the great St Johns River, and From Nassau Sound including the Ft George River south to The Palm Valley Bridge in the Intracoastal Waterway.

For more information contact this Flotilla at boatsafely04@gmail.com.

---
Meetings: 1930 Every first Tuesday of the month
Staff meeting 1830
'Meet and Greet' 1900

Seaschool
14180 Beach Blvd. #8
Jacksonville, Fl 32250
[Map]

---
Hurricane Resource Website
For extensive information on what to do before, during and after a storm, visit the BoatUS Hurricane Resource website to download the latest version of the Hurricane Preparation Guide and Worksheet, to review the successful hurricane plans submitted by other boaters and to follow active storms through state-of-the-art tracking models.
http://www.boatus.com/hurricanes/