Welcome to the Flotilla 10-1, District 7 Web Site


BEAUFORT JASPER
The United States Coast Guard Auxiliary is the uniformed, volunteer component of the United States Coast Guard. Founded in 1939, the Auxiliary boasts over 30,000 members. These men and women, 17 years of age and older, train and work together to support the non-law enforcement missions of the U.S. Coast Guard and actively promote recreational boating safety and marine environmental protection within their community.
The Beaufort Jasper Flotilla, also known as 10-1, was established in 1999 and currently has over 25 members. In addition to conducting free vessel examination, marine dealer visits, and recreational boating safety classes, Flotilla 10-1 inspects aids to navigation, conducts safety patrols, and supports USCG helicopter operations in the waters of Beaufort, Port Royal, and the the Barrier Islands.
Flotilla 10-1 belongs to Division 10 of USCG District 7. Division 10 consists of four flotillas: Beaufort Jasper, Savannah (Flotilla 10-2), St. Simons Island (Flotilla 10-10), and Hilton Head Island (Flotilla 10-11). The 7th District encompasses most of Florida and Georgia, and all of South Carolina.

We invite you to join us at one of our monthly meetings. We meet on the second Wednesday each month. Social time is at 1830 and the meetings begin at 1900. Our meetings are held at the Beaufort-Jasper Water and Sewer Authority Community Room, located at the intersection of Highway 170 and Snake Road/Callawassie Drive in Okatie. (MAP) Contact Bill Ballard at uscgabeaufort@gmail.com or by telephone at 843-605-3563 for additional information.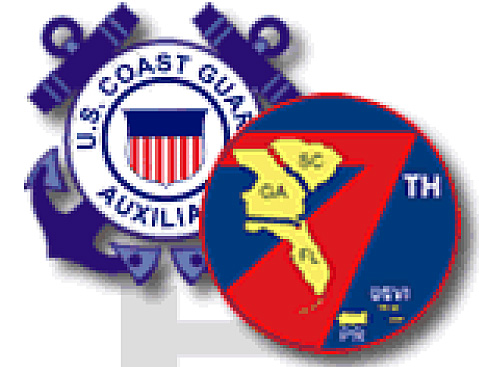 "THE GUARDIAN ETHOS"
I AM A COASTGUARDSMAN.
I SERVE THE PEOPLE OF THE UNITED STATES.
I WILL PROTECT THEM.
I WILL DEFEND THEM.
I WILL SAVE THEM.
I AM THEIR SHIELD.
FOR THEM I AM SEMPER PARATUS.
I LIVE THE COAST GUARD CORE VALUES.
I AM PROUD TO BE A COAST GUARDSMAN.
WE ARE THE UNITED STATES COAST GUARD.