Join the Auxiliary and Serve Your Country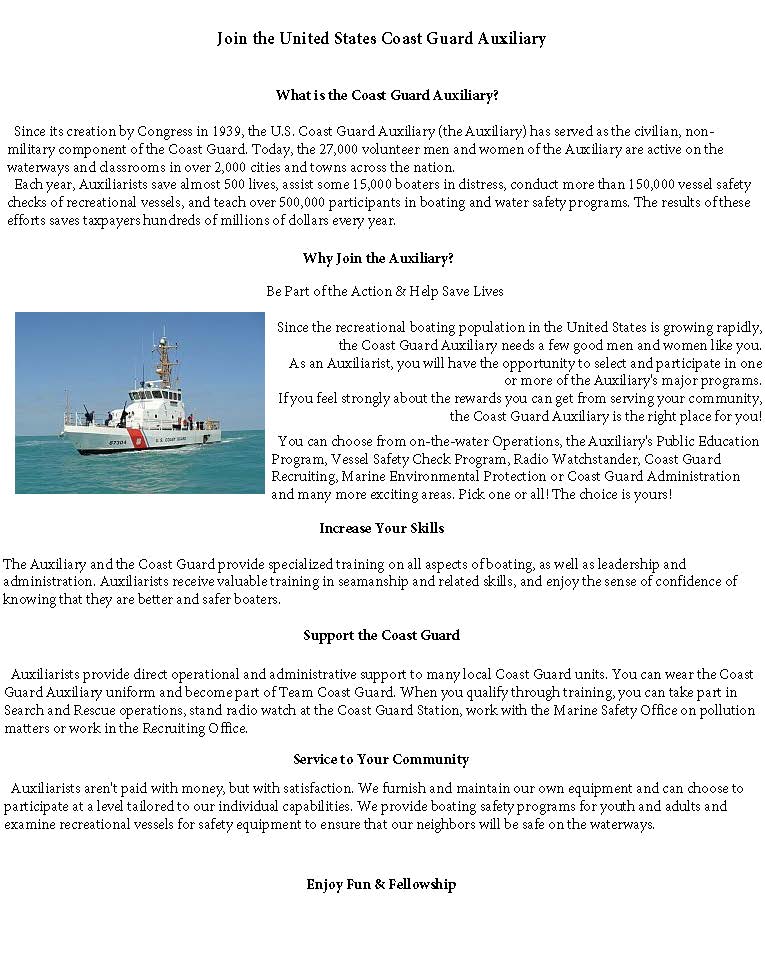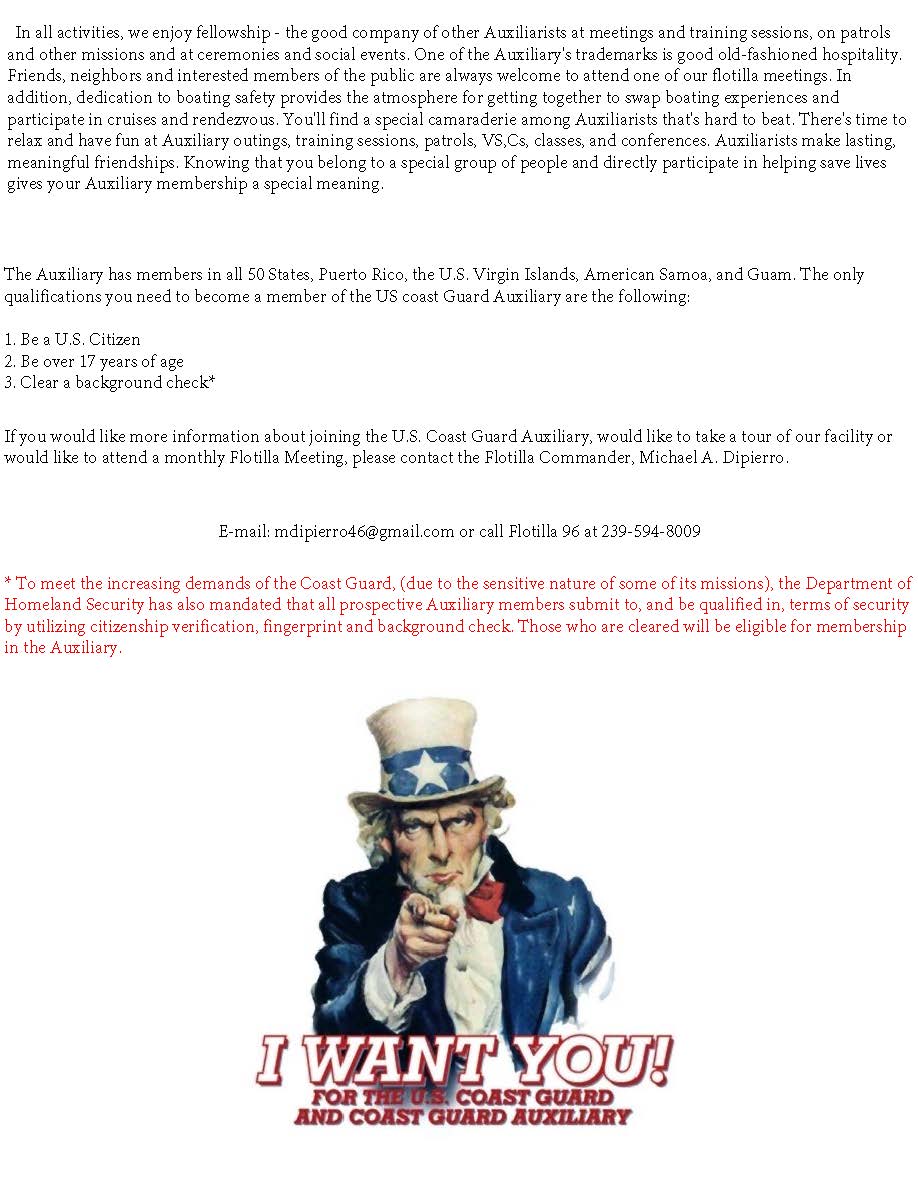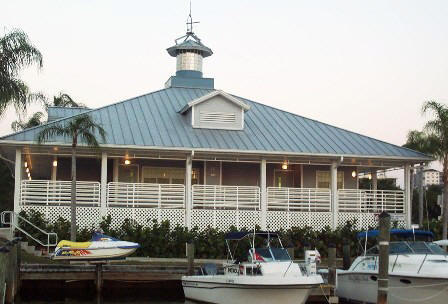 Why Should I Join
Are you looking for adventure while serving your country and your community?
If you are looking to add a new dimension to your life, consider joining the United States Coast Guard Auxiliary and becoming a member of Flotilla 96, your area flotilla for North Naples, Bonita Springs,

Estero and Fort Myers Beach, Florida. Local flotillas are the operational units of the U.S. Coast Guard Auxiliary.

Wherever your interests lie, and whatever life skills you have, chances are the U.S. Coast Guard Auxiliary can offer you an area to serve that will enrich your life in ways you may not have imagined.

The Auxiliary offers you a unique opportunity to make a real difference in your local community and across the country.

Flotilla 96 is one of the largest and most active flotillas in Florida. We have almost one hundred men and women from all walks of life and all ages.

We welcome and recognize your past experience, skills and talents. We challenge you to have fun learning new skills and qualifications in company with a very special group of volunteers.

The Coast Guard Auxiliary offers a number of opportunities, but the tasks can genera
lly be divided into three service areas:
• Recreational Boating Safety
• Operations and Marine Safety
• Mission Support to the Coast Guard
Auxiliarists are able to partake in training and perform missions in any of these areas. So, get some adventure back into your life and become a member of "Team Coast Guard".
Joining "Team Coast Guard" is Easy
Joining the United States Coast Guard Auxiliary and becoming a member of "Team Coast Guard" with Flotilla 96 is a simple process, open to all.
Applicants must be U.S. citizens, at least 17 years old, and pass a background security check.
There are no upper age limits or height/weight standards, although for operational activities
you must be physically able to perform certain tasks.
There are no minimum service hours – you can serve as little or as much as you want.
You can start today by calling our Flotilla at 239-594-8009. Simply leave a message that you're interested in joining, along with your name and contact phone number
Enter on the subject line, "USCGAUX96 Web Site Request For Membership Information".

We also cordially invite you to attend a monthly flotilla meeting on the third Wednesday of every month at 7:00 PM, at 13531 Vanderbilt Rd., Naples, Fl 34110.
As a component of U. S. Coast Guard Forces we are –– Semper Paratus (Always Ready).