Radio Communication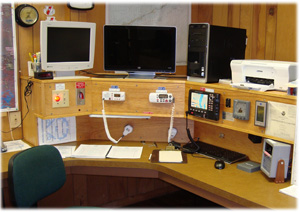 Communications Center at USCG AUX Station Naples
Some Helpful Information for VHF Radio Users
Procedure Word (PROWORDS)
ALL AFTER
The portion of the message to which I have reference is all that which follows
ALL BEFORE
The portion of the message to which I have reference is all that which proceeds
BREAK
I hereby indicate the separation of the text from other portions of the message
CORRECT
You are correct or what you have transmitted is correct
CORRECTION
An error has been made in this transmission. Transmission will continue with the last word correctly transmitted. An error has been made in this transmission (or message indicated) The correct version is__________ That which follows is a corrected version answer to your request for verification.
DISREGARD THIS TRANSMISSION
This transmission is in error. Disregard it. (This proword shall not be used to cancel any message that has been completely transmitted and for which receipt or acknowledgment has been received.)
DO NOT ANSWER
Stations called are not to answer this call, receipt for this message, or otherwise to transmit in connection with this transmission. When this proword is employed, the transmission shall be ended with the proword "OUT
FIGURES
Numerals or numbers follow (Optional)
FROM
The originator of this message is indicated by address designation immediately following
GROUPS
This message contains the number of groups indicated.
INFO
The addressees immediately following are addressed for information
I READ BACK
The following is my response to your instructions to read back
I SAY AGAIN
I am repeating transmission or portion indicated
I SPELL
I spell the next word phonetically
I VERIFY
That which follows has been verified at your request and is repeated. (To be used as a reply to verify.)
MESSAGE
A message which requires recording is about to follow (Transmitted immediately after the call. )
MINIMIZE
Please limit your transmissions to essential traffic. Emergency operational traffic is in progress. MINIMIZE is imposed by Net Control or by the Incident Commander.
MINIMIZE LIFTED
Minimize is lifted by Net Control or by the Incident Commander
MORE TO FOLLOW
Transmitting station has additional traffic for the receiving station
OUT
This is the end of my transmission to you and no answer is required or expected. (Since OVER and OUT have opposite meanings, they are never used together
OVER
This is the end of my transmission to you and a response is necessary. Go ahead; transmit
READ BACK
Repeat this entire transmission back to me exactly as received.
RELAY (TO)
Transmit this message to all addresses (or addresses immediately following this proword). The address component is mandatory when this proword is used
REPEAT
Not used in normal traffic (This proword is used in US Army Artillery to request another artillery round be fired.)
ROGER
I have received your last transmission satisfactorily.
ROUTINE
Precedence ROUTINE. Reserved for all types of messages which are not of sufficient urgency to justify a higher precedence, but must be delivered to the addressee without delay.
SAY AGAIN
Repeat all of your last transmission. (Followed by identification date means "Repeat __________ (portion indication). "
SERVICE
The message that follows is a service message.
SPEAK SLOWER
Your transmission is at too fast a speed. Reduce speed of transmission
THIS IS
This transmission is from the station whose designator immediately follows
TIME
That which immediately follows is the time or date/time group of the message
TO
The addressee(s) immediately following is (are) addressed for action
UNKNOWN STATION
The identity of the station with whom I am attempting to establish communication is unknown.
VERIFY
Verify entire message (or portion indicated) with the originator and send correct version. (To be used only at the direction of the addressee to which the questioned message was directed.)
WAIT
I must pause for a few seconds.
WAIT OUT
I must pause for more than a few seconds.
WILCO
I have received your signal, understand it, and will comply. (To be used only by the addressee. Since the meaning of ROGER is included in that of WILCO, the two prowords are never used together.
WORD AFTER
The word of the message to which I have reference is that which follows.
WORD BEFORE
The word of the message to which I have reference is that which precedes.
WORDS TWICE
Communication is difficult. Transmit each phrase twice. This proword may be used as an order, request, or as information.
The Phonetic Alphabet
| | | |
| --- | --- | --- |
| Letter | Phonetic Equivalent | Pronounced |
| A | Alpha | AL FAH |
| B | Bravo | BRAH VOH |
| C | Charlie | CHAR LEE or SHAR LEE |
| D | Delta | DELL TAH |
| E | Echo | ECK OH |
| F | Foxtrot | FOKS TROT |
| G | Golf | GOLF |
| H | Hotel | HOH TELL |
| I | India | IN DEE AH |
| J | Juliet | JEW LEE ETT |
| K | Kilo | KEY LOH |
| L | Lima | LEE MAH |
| M | Mike | MIKE |
| N | November | NO VEM BER |
| O | Oscar | OSS CAH |
| P | Papa | PAH PAH |
| Q | Quebec | KEH BEC |
| R | Romeo | ROW ME OH |
| S | Sierra | SEE AIR RAH |
| T | Tango | TANG GO |
| U | Uniform | YOU NEE FORM or OO NE FORM |
| V | Victor | VIK TAH |
| W | Whiskey | WISS KEY |
| X | Xray | ECKS RAY |
| Y | Yankee | YANG KEY |
| Z | Zulu | ZOO LOO |
Pronunciation of Numbers
| | |
| --- | --- |
| Numeral | Spoken As |
| Ø | ZE-RO |
| 1 | WUN |
| 2 | TOO |
| 3 | TREE |
| 4 | FOW-ER |
| 5 | FIFE |
| 6 | SIX |
| 7 | SEV-EN |
| 8 | AIT |
| 9 | NIN-ER |