Boating Courses
Fri, 20 Jan 17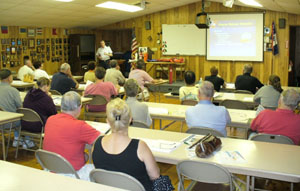 Flotilla 9-3 teaches several different Boating Classes to the public. During the Spring 2018 session, Flotilla 9-3 will offer three different courses, listed below.
To view descriptions of the individual courses, click the name of the course listed below in the right-hand column. To view Flotilla 9-3's scheduled class times and dates for a particular course, click on the link for the corresponding schedule in the middle column.
Class Schedule

Class Description

Boating Skills & Seamanship

Mar 12 Thru Apr 12 2018

GPS for Mariners

Apr 16th and 19th 2018

Local Knowledge for Naples Boaters

Saturday, Apr 14th, 2014
If you are interested in enrolling in one of the above courses for the Spring of 2018, or have a request for a future class topic, please contact the Flotilla Staff Officer for Public Education, George Kartsimas, by clicking here.
All are classes are taught at our station in downtown Naples, Florida. Click here for a map and directions.
If you have additional questions, please call the Flotilla 9-3 Station directly at (239)-261-7375 and leave a message with your contact information and inquiry.