Welcome to the Division 7, District 7 Web Site
Serving Tampa Bay!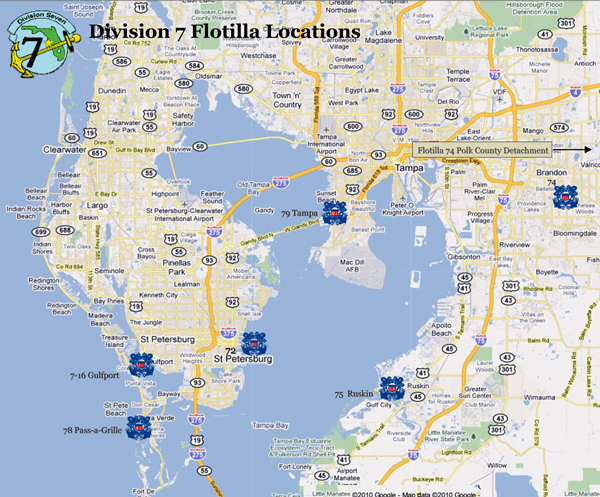 URGENT ANNOUNCEMENT - 1 SEPT 2014 - FROM DIVISION COMMANDER GINES
One of our gold side Coast Guard shipmates from Station St. Petersburg, MK2 Jonathan Hemmingway, is in dire need of our help. His young daughter Sophie has been bravely fighting juvenile cancer, and was recently discharged from All Children's Hospital. While she will continue chemotherapy, Sophie now has a new battle ahead of her: finding a potential bone marrow donor.

Our Auxiliary family is being asked to participate in simple bone marrow donor testing. The donor match test is quick, painless, and involves no needles or bloodwork - just a simple swab on the inside of the cheek. The eligible donor age range is 18-44. If you are older than 44, we ask you to please bring friends, family, and anyone else who may be a potential donor and willing to help save a life. The testing will take place at two convenient locations this coming week:

* Wednesday, 03 September, from 1030 to 1330hrs at USCG Station St. Petersburg, Windjammer Room

* Thursday, 04 September, from 1030 to 1330hrs at USCG Air Station Clearwater
There are numerous missions and situations in which our Auxiliary service calls upon us to step forward and be counted upon to help save lives. This is certainly one of those times and represents a unique situation to further extend our hearts, our compassion, and our spirit to help take care of one of our own. In that regard, this is what we do and who we are all about. Please join us or ask eligible friends and family to step up for Sophie and be the match in this time of need.

---
The United States Coast Guard Auxiliary
The United States Coast Guard Auxiliary is the civilian component of Coast Guard Forces. Founded in 1939 by an Act of Congress as the US Coast Guard Reserves and re-designated the Auxiliary in 1941. The 31,000 volunteer members (men and women) donate thousands of hours in support of Coast Guard missions.
The Coast Guard does more than just Search and Rescue, and with the exception of direct law enforcement and military action, the Auxiliary is there, side by side, working with regular and reserve Coast Guard units, every step of the way. We're found in every part of the United States, not just where Recreational Boating is found. Click here to learn more about The Coast Guard Auxiliary: Past and Present.
The National Organization is broken down along the lines of the Coast Guard Districts (some districts are further sub-divided for ease of administration). Districts are then sub-divided into Divisions, with these units further sub-divided into Flotilla's. The Flotilla is the mainstay of the Auxiliary, and every member must belong to a Flotilla.
We're serious about Boating Safely and Boating Safety. We provide public education on a wide-range of boating topics. We even have programs for KIDS!
In addition to being a major team member of the Coast Guard (our numbers exceed the current strength of the USCG), we are a social and fraternal organization.

---