Welcome to the Division 6, District 7 Web Site
"D7 Div6" is one of the largest and most active divisions in the US Coast Guard Auxiliary. Our 500+ Auxiliarists train and operate within seven flotillas and our geographic area of responsibility (AOR) roughly covers Miami-Dade County. In the air, on land and on the water Auxiliarists actively support US Coast Guard missions with an emphasis on recreational boating safety.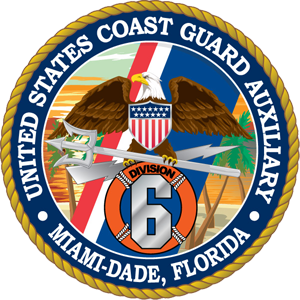 What we do
| | | |
| --- | --- | --- |
| | | |
| On the water, Auxiliary patrols safeguard boaters, protect the environmental, support search and rescue operations, check navigation aids and train active duty Coast Guard units. Our area covers the Atlantic coast, and intercoastal waterway. | | Auxiliary airman pilot and crew small aircraft to perform survey, transport and observation missions under orders of the Coast Guard. Most aviators and air crews in our division are in Flotilla 69, the unit based at Coast Guard Airstation Miami in Opa Locka. |





On the ground, Auxiliarists in our division teach

State-approved boating safety classes to the general public. We

also train local police and fire units.

We conduct

recreational and commercial vessel safety checks, and hold outreach events at boat shows and youth organizations.



In active duty military units,

we augment and directly support missions in

any capacity other than direct law enforcement or combat operations. Auxiliarists from our division serve in both operational and administrative roles with the Coast Guard and other services.


We are #SemperParatus - Always Ready.