Welcome to the Flotilla 5-2, District 7 Web Site
Serving the Greater Jupiter Area

The United States Coast Guard Auxiliary is the civilian component of the U.S. Coast Guard. The Auxiliary was authorized in 1939 by an act of Congress as the U.S. Coast Guard Reserves. Congress later amended the act with passage of the Auxiliary and Reserve Act of 1941, which designated the Reserve as a military branch of the active service, while the civilian volunteers became the Auxiliary.

We in Flotilla 52 work directly in support of the men and women of U.S. Coast Guard Station Lake Worth Inlet.

In addition to assisting the Coast Guard in Search and Rescue missions and in training exercises, we perform courtesy vessel checks, teach boating safety classes, maintain relationships with local marine stores and marinas, and routinely patrol local waterways looking for navigational hazards and pollution problems.

The Four Cornerstones of the Auxiliary:

Courtesy Vessel Safety Checks

Boating Safety Courses

US Coast Guard, State and Local Support Operations

Auxiliary Fellowship




Gregory A Barth

Flotilla Commander

Mark Cleveland
Vice Flotilla Commander
Vessel Safety Check Exams
Courtesy Vessel Safety Checks
every Saturday, 9:00am - 12:00PM West ramp, Burt Reynolds Park, Jupiter, FL or contact us at flotilla0502@gmail.co
FLOAT PLAN:
.
Click or copy link below to access a fillable PDF form FLOAT PLAN. Be sure to complete a float plan prior to your boating excursion to inform your friends and family of your destination, departure and arrival times.

http://floatplancentral.cgaux.org/download/USCGFloatPlan.pdf
A USCG App has been recently made available to the general public for downloading to your smartphone. The App provides useful information pertaining to Boater Safety, Aids to Navigation, Reporting Suspicious activity and much more. The App is now ready for download for iphones and Android. Go to your App store and search for UNITED STATES COAST GUARD. We a12re certain you will agree that the USCG App is a valuable addition to your smart phone. We strongly recommend this App to your family and friends.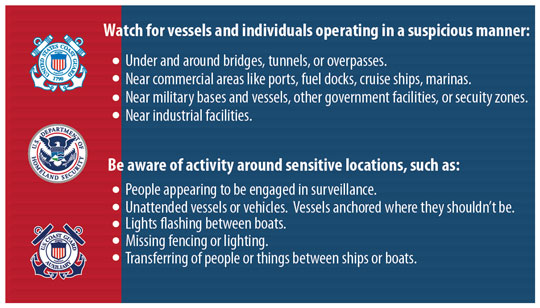 America's Waterway Watch
(AWW) is a Coast Guard-sponsored nationwide program that helps prevent acts of terrorism and other illegal activity that jeopardize maritime homeland security by educating and training members of the maritime and recreational boating organizations, as well as the boating public, to recognize and report suspicious activity to appropriate authorities. Suspicious activity refers, but is not limited to, activity regarding a vessel or pleasure craft, marine structure, waterfront facility, person, vehicle, cargo, or stores that a reasonably prudent person would consider out of the ordinary or unusual based on the facts and circumstances for that situation. AWW focuses on U.S. coast, ports, and waterways to provide enhanced situational awareness to deter illegal activities and increase the collection of information and knowledge about local routines or threats. It offers real-time feedback across nearly every Coast Guard Mission set. AWW combines federal, state, local, industry, and U.S. citizen resources to unify DHS efforts in our waters.
Contact National National Help Desk Website
ABS Class Jupiter River Center
ABS Class at Jupiter Rivercenter
THE UNITED STATES COAST GUARD AUXILIARY
FLOTILLA 52, JUPITER, FL.
PROUDLY PRESENTS
"ABOUT BOATING SAFELY"
A ONE DAY USCG APPROVED SAFE BOATING COURSE THAT INCLUDES A
REVIEW AND QUIZ THAT IS REQUIRED TO OBTAIN YOUR FLORIDA ISSUED
SAFE BOATING CARD
SATURDAY AUGUST 12th FROM 8:00AM TO 4:00PM
LOXAHATCHEE RIVER CENTER, JUPITER, FL
(PLEASE BRING A BAGGED OR BOXED LUNCH)
FUTURE CLASSES AT THE RIVER CENTER – Sep. 16th, Oct. 14th & Nov. 4th
THE TOTAL COST FOR THE "ABOUT BOATING SAFELY" COURSE WILL
GENEROUSLY BE PAID BY A GRANT FROM THE AUSTINBLU FOUNDATION.
FOR MORE INFO VISIT www.austinblufoundation.org
A $10 COURSE FEE (REFUNDED UPON COURSE COMPLETION) FOR EACH STUDENT WILL
BE PAID IN ADVANCE TO THE RIVER CENTER AT TIME OF REGISTRATION
TO CONTACT USCG AUXILIARY, FLOTILLA 52, JUPITER, FL
CALL (561) 744-8135 or email flotilla0502@gmail.com
TO RESERVE YOUR SPACE CONTACT:
LOXAHATCHEE RIVER CENTER 805 US HIGHWAY 1, JUPITER, FL 33477
CLASS LIMITED TO 30 STUDENTS
CALL (561) 743-7123 OR GO TO www.tiny.cc/boatsafe
United States Coast Guard Auxiliary
America's
Volunteer
Lifesavers
USCG Auxiliary
Flotilla 52