Vessel Safety Checks
Flotilla 3-4 Vessel Safety Check Program (VSC)
Flotilla 3-4 is proud to take part in one of the U.S. Coast Guard Auxiliary's greatest programs, the vessel safety check. This program is a courtesy of the U.S. Coast Guard Auxiliary and is performed at your vessel- whether in a slip, at the launch ramp, or in your driveway by a certified vessel examiner.
The mission of the vessel safety check is to ensure your vessel is prepared for safe boating by making certain you have all the required safety equipment.
Why Get Checked?
For one thing, safety! Most of the required safety items are there for a reason. It lets you know that your vessel meets the minimum required safety equipment needed during emergency situations that can save lives and summon help.
Vessels that pass the vessel safety check are rewarded a VSC decal that alerts the Coast Guard, Harbor Patrol, and other law enforcement agencies that your boat was found to be in compliance with all Federal and State boating laws. By meeting the guidelines you could possibly avoid substantial fines if you were ever boarded by law enforcement agencies and lacked the requirements. To add to the benefits of the program, if you send a copy of the signed VSC report saying you met the requirements to your insurance company you may receive a discount (check with your agent)
What if you don't pass?
If your vessel does not pass, no report is filed. You will be provided a written report that aids you in correcting any discrepancies. Often times when you bring a signed VSC report you may receive a discount on your missing items.
Scheduling a VSC:
VE Blitzes are performed usually twice a month at Alsdorf Park in Pompano Beach. Dates are TBD.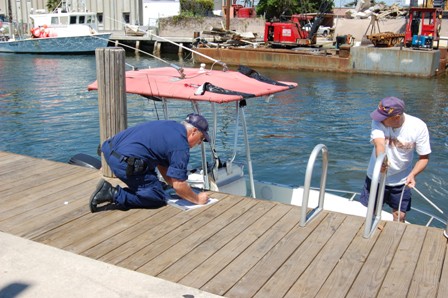 (Above picture is a boater at Alsdorf Park undergoing a VSC by a qualified VE)