Welcome to the Flotilla 3-4, District 7 Web Site
Letter from the Commander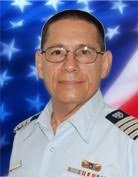 Welcome to U.S. Coast Guard Auxiliary Flotilla 34, Pompano Beach, FL. The United States Coast Guard Auxiliary is the volunteer, civilian arm of the United States Coast Guard. Our mission is to assist the United States Coast Guard by focusing on recreational boating safety. In essence, we are your volunteer lifesavers.
Our flotilla performs many functions within the realm of boating safety including but not limited to: boating safety courses, complimentary vessel safety examinations, regular visits to marine dealers to promote boating safety, boating safety patrols and many community events to further educate the recreational boating public about safe boating. As a volunteer organization, we are not all work and no play. One of the cornerstones of the U.S. Coast Guard Auxiliary is fellowship. Our flotilla has a quarterly dining out event held at a different local restaurant where we have the opportunity to socialize and bring our guests to meet the members we serve with. In addition, we have picnics and other social outings as well.
If you are interested in gathering more information about the U.S. Coast Guard Auxiliary and Flotilla 34, please feel free to contact me, or come as a guest and attend one of our meetings.
If you would like to attend a boating safety class or have your vessel inspected please explore our website and contact myself or one of my officers and we will be more than happy to assist you.
Semper Paratus, "Always Ready"
Richard Leys, Flotilla Commander
U.S Department of Homeland Security
District 7 U.S. Coast Guard Auxiliary
Division 3 Flotilla Pompano Beach, FL