Flotilla 25-8 Uniform Information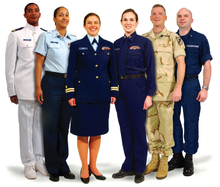 CG Auxilliary Uniforms
Sun, 10 Dec 17
The Coast Guard Auxiliary is the uniformed, volunteer component of the United States Coast Guard. As such, we have the right and the privilege to wear the official uniforms of the Coast Guard, with subtle differences in insignia to identify us to one another and to active duty Coast Guard members. The most obvious differences are the following: their buttons and braid are gold while ours are silver, and our collar and shoulder insignia all have a small "A" signifying "Auxiliary."
Different uniforms are worn for different tasks and different levels of formality. For most auxiliarists, the recommended first uniform is either the tropical blue ("trops") or the operational dress uniform, and the recommended second uniform is the other one.
To learn more about which uniform is most appropriate for you, please speak with the .
Also, check whether the flotilla's Lucky Bag has any free items you can use.