Our Waterways
Flotilla 20-02 home Waterways


Specific NOAA Charts of our home waterways (please click below):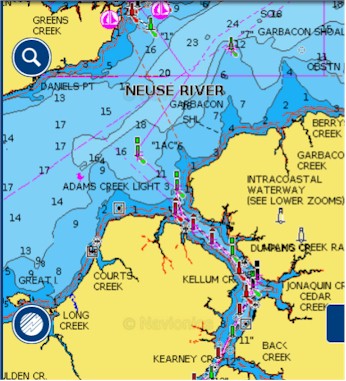 Cape Lookout to New River NOAA Chart #11543

Portsmouth Island to Beaufort, Including Cape Lookout Shoals NOAA Chart #11544

Beaufort Inlet and Part of Core Sound;Lookout Bight NOAA Chart #11545

Morehead City Harbor NOAA Chart #11547
Pamlico Sound Western Part NOAA Chart #11548
LOCAL NOTICE TO MARINERS FIFTH DISTRICT LNMS FOR 2018

The weekly update to the 2017 USCG Light List, Volume Two
North Carolina Vessel Operators Guide

Thanks to Navionics who provided the charts of Our Waterways.
The Coast Guard completes the re-establishment of 12 nav aids in Bogue Inlet
ATON (Aid to Navigation) cannot be used while navigating Barden's inlet due to shoaling. ATON has been temporarily discontinued until further notice.
A recommended read by Immediate Past Flotilla Commander Heinz Rister, "Officials Look to Clean Up Taylor's Creek"
Free subscription to Coastal Review Online, CLICK HERE.