Bill's Links
Bill's Links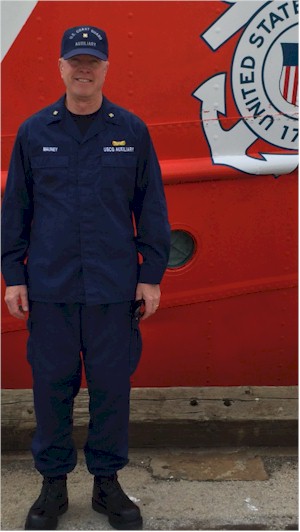 Flotilla 20-02's own FSO-MT (Member Training) Bill Mauney, has many thoughts.
By the time he graduated from High School, he was proficient in handling canoes and sailboats as well as motorboats. He also learned to fly an airplane.
He attended the U.S. Naval Academy, where, among other things, he raced sailboats up to 65 feet in length and expanded his boat and ship handling skills. He also became a certified scuba diver.
He went on to matriculate at Outward Bound, where he got into backpacking, mountaineering, rock climbing, search and rescue, and wilderness canoeing. He earned a master of science degree from Mankato State College (now Minnesota State University) in Experiential Education, spent some time in the Marines, and, with the help of others founded and directed the VENTURE experiential education program at UNC-Charlotte with emphasis on backpacking and rock climbing, got married.
Above excerpted from: CUSTOMERS BENEFIT FROM V.P. BILL MAUNEY'S LIFETIME OF HANDS-ON 'RESEARCH'
Bill shares his knowledge, expertise, educational viewpoints, and interests through the links he shares with his fellow shipmates--and we are fascinated by them as it gives us a glimpse into this persons' mind. We share his links below as Bill's training is for all of us.
Driving while distracted. We've all seen it. It happens not just with vehicle drivers but with vessel skippers as well. Some good lessons here. The skipper was preoccupied with his cell phone according to a passenger. The victims learned the importance of wearing a life jacket. Law suits are costly.
Here is some advice from our fellow RBS supporters at the US Power Squadron about preparing for bad weather. Semper Paratus, Bill
There are many ways we serve the Coast Guard. Enjoy the "Think Auxiliary" article.
Rainy day armchair adventures. Try these sea-going movies when it is too nasty to be afloat.
Week in the life of the Coast Guard 2017 -- Tuesday
Here are a few tips for handling lines on a vessel.
Shipmates, If you are not familiar with Local Notice to Mariners or it has been a while since you read one, here is a link to the latest edition. Check out the notes and changes to chart 11545. LNM is a wealth of up-to-date navigational info. Semper Paratus, Bill