Meeting Schedule
Flotilla 20-2 meets on the first Thursday of each month at 1900 hours (7:00pm). Meetings are held in the training room on the second floor of the Sector Field Office Building aboard Coast Guard Sector Field Office at Fort Macon; 2301 E. Fort Macon Road; in Atlantic Beach, NC.
We will feature one photo per meeting which we hope will encapsulate that evening.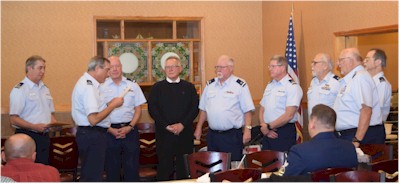 The Vice Flotilla Commander recites the Oath of Office to the Flotilla Staff Officers. From L to R: Phil Amanna FC, Mark Sonder VFC, Bill Mauney FSO-MT, Dave Tolley FSO-FB, Bob White FSO-DV, Captain Jeff Perkins FSO-MA, Sandy Roberts FSO-IT, Bob Leibert FSO-VE, Heinz Rister FSO-MS and IPFC.
Photo by Janice Tolley, January 13, 2018

2018
Date: Thursday, April 5, 2018
Monthly Flotilla Meeting
Location: U.S. Coast Guard Station Ft. Macon, commencing at 1730 hours or 5:30 pm on the docks at Station Fort Macon for a tour of The CGC RICHARD SNYDER (WPC 1127).

Date: Thursday, March 1, 2018
Monthly Flotilla Meeting
Location: Carteret County Community College
Date: Thursday, February 8, 2018
Monthly Flotilla Meeting
Location: Station Fort Macon, Atlantic Beach, NC, in the Training Room
Times: 1450 hours
Note: Please bring a government issued ID to gain entrance to the Station

January 13, 2018 Change of Watch
Location: Tsunami Restaurant, Morehead City, NC
Time: 1800
Reservations: Required
2017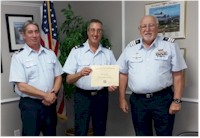 February 2 : The first speaker of the year, Mark Sonder was also sworn in as the Flotilla's FSO-CS
Sonder (c) flanked by FC Rister (r) and VFC Amanna (l)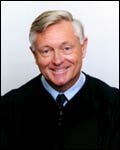 March 2: This meeting featured Doug McCullough. He is currently a N.C. Court of Appeals Judge. He provided excerpts from his book "Sea of Greed". A true story of drug interdiction by the USCG, Ft. Macon which led to the arrest of the largest drug bust in U.S. history, the U.S. invasion of Panama, and the overthrow of Panamanian dictator Manuel Noriega.
April 6: Hayley Amanna (daugher of our VC), is an ACA level 2 Kayak instructor, including Paddleboard. She has been an avid coastal kayaker for the last 10 years. During the past several years, she has been employed as a kayak instructor/guide for various adventure outfitters. To name a few; Beaufort Inlet Watersports, Paddle NC Hidden Coast Adventure Company, and 8 months in New Zealand as a kayak guide with the Sea Kayak Company at the Abel Tasman National Park. She is currently employed by the Raleigh Parks & Rec. adventure program as an instructor and assists with their kayak roll clinics. And finally, Hayley was recently hired by REI, as one of their kayak class instructors.
Hayley shared information about the kayak/paddleboard tour business. She discussed common misconceptions about paddling in coastal North Carolina and the way outfitters help to inform paddlers before getting on the water, including a lively discussion on PFDs and crossing channels in our waterways.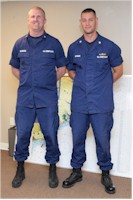 May 4: Vernon Blackwell (L), Evan Bledsoe (R) from the Sector Field Office Fort Macon Marine Safety Detachment (MSD), spoke about what they do and how the Auxiliary is involved with them. Far Right Photo by Dave Tolley.

June 1: Held at Fort Macon. Our Flotilla Commander Heinz Rister at the helm facilitating the meeting. Photo by Dave Tolley.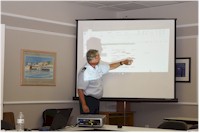 July 6: Phil Amanna VFC, presented a budget spreadsheet showing flotilla members the current financial health and future financial projections without any source of income being generated from not conducting Public Education schools. Photo by Dave Tolley.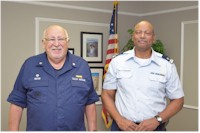 August 3: Guest Lecturer, Alvin Powell, SO-DV. Topic was, "Diversity in the Auxiliary." FC Rister (L) with S0-DV Powell (R), Photo by Dave Tolley.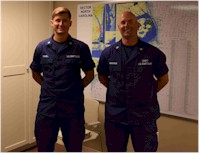 September 7 took place at Coast Guard Station Ft Macon; 2301 E. Ft Macon Rd.; Atlantic Beach, NC. Training session: Station Ft. Macon Responsibilities, BM1 Mike Bradshaw and BM2 Kristopher Pernell, presenters. Photo by Dave Tolley.

October 5 took place at the Carteret County Chamber of Commerce, Morehead City.
November 2 took place at the Carteret County Chamber of Commerce, Morehead City. Our 2018 Elections took place, with Mark Sonder elected a VFC. The FC position was not determined at this meeting.
December 7 took place at the Training Room of the Field Sector Headquarters Building, Station Ft. Macon, Atlantic Beach. In addition, prior to the meeting, there was a tour of the Coast Guard Station. It was decided that in 2018 Phil Amanna and Mark Sonder will be the FC and VFC respectively..
January 13, 2018 Change of Watch
Location: Tsunami Restaurant, Morehead City, NC
Time: 1800