Area Waterways Information
Here you will find information on the New River as well as additional local and state information with links to charts, boat registrations, fishing license information and publications.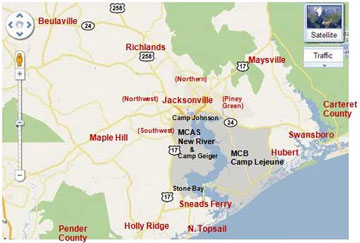 The New River is a 50-mile (80-km) long river in southeastern North Carolina in the United States. It empties into the Atlantic Ocean.
It rises in northwestern Onslow County and flows east-southeast past Jacksonville, where it widens into a tidal estuary approximately two miles (3.2 km) wide. As an estuary it meanders through Marine Corps Base Camp Lejeune and enters the Atlantic in Onslow Bay, via the New River Inlet between two barrier islands. Like the Los Angeles river in California, the New River's headwaters and mouth are in the same county.

The Atlantic Intracoastal Waterway crosses the entrance of the river between the coast and the barrier island.

The river is periodically dredged for the convenience of commercial fishing operations. The New River Inlet exit into the ocean has been moved by man via dredging projects. Since the fishing industry and political gains are greater by continuing this dredging project, it is causing the southern island from the inlet to slowly disappear. Since the man made inlet was placed north of the island, the island has begun to wash away due to the changes in currents.

The boating waters in our Flotilla's area of operation are distinguished by a tide of roughly three feet and hundreds of acres of shallow water less than a foot deep at low tide. Tidal flows can exceed five knots.
Staying in navigable channels is essential for safe boating. Inlets can be challenging when winds and tidal flows are against each other. Boats not designed for inlet transit can cause safety issues when conditions that were marginal when going out have deteriorated to dangerous when it is time to return.
Local & State Boating Information Links:

Local Intracoastal Waterway Chart

Corps of Engineers New River Inlet Chart
State Maps, Boat Registration, Fishing License Information & Publications
N.C. Department of Marine Fisheries