Welcome to the Flotilla 20-1, District 5SR Web Site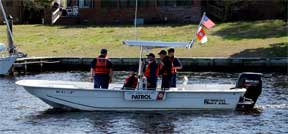 Thanks for visiting the New River Flotilla 20-01 website! Located in Jacksonville on the New River in southeastern North Carolina, we serve the surrounding area including Camp Lejeune, Richlands, Sneads Ferry. If you are looking for some adventure in your life and want to apply your skills and learn new ones, we hope you'll decide to join us. To get in touch with us now by phone, email, or to attend one of our meetings, please go to About Flotilla 20-1 in the left menu.
Membership in the Auxiliary is open to all American citizens 17 years and older.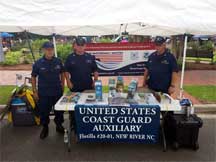 For boaters, please check out these items in the left menu: Boating Courses schedule; free Vessel Safety Checks for your boat, Boating Safety Information, and Area Waterways Information.

The Auxiliary offers you these opportunities:

• Fellowship, new friendships, helping others, and working with teams
• Learn in Boating Safety classes for the general public (free with membership)
• Free advanced Auxiliary training in boating skills and many other areas
• Be involved in public education teaching classes or public affairs in the community
• Become a food service specialist and work at Coast Guard stations or on Coast Guard cutters
• Assist the Coast Guard in the AUXAIR program as aircraft pilot, crew or observer
• Learn radio communications training and do communications at Coast Guard stations
• Become a vessel safety inspector and do free inspections of boats
• Learn new leadership, administration, and management skills
• Be involved in joint training with the Coast Guard
• Learn new Information systems and computer systems skills
• Put your writing skills to work in marketing, communications, and publications
• Interact with local marine stores and marinas to promote boating safety
• Many other opportunities in human resources, finance, marine safety and the environment, navigation services, public affairs, materials, and more.
Join Us Now!
We need more women and men just like you!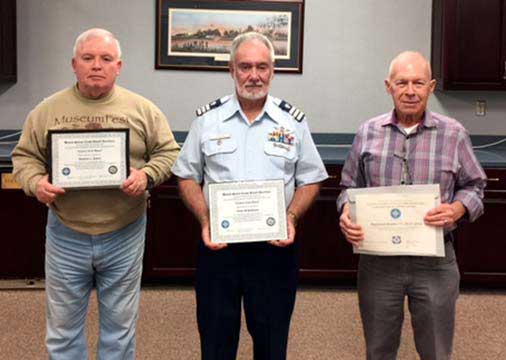 Flotilla members receive the President's Award for 4000 hours of volunteer service to the U.S. Coast Guard Auxiliary. Left to right: Steve Sayko, Pete Bokkean, and Ray Moulton.
National Commodore's Official Policy
It is the policy of the United States Coast Guard Auxiliary to ensure that all citizens, regardless of race, gender, color, national origin, sexual orientation, gender identity and expression, age, religion, or physical or mental disability have an equal opportunity to become a volunteer of this organization. It is after all, part of our mission to become the volunteer organization of choice.