Welcome to the Flotilla 16-1, District 5SR Web Site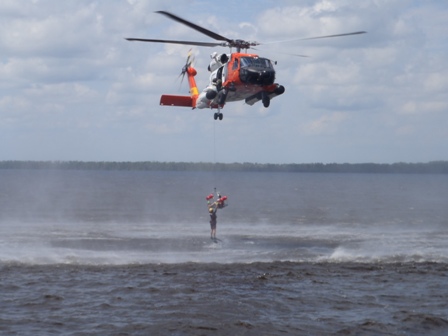 This website has been approved by USCGA National IT
Welcome to Flotilla 16-01 Elizabeth City
If you are into boating -- safe boating -- and want to learn and do more with this pastime -- you've come to the right place. We're Flotilla 16-01, Elizabeth City, North Carolina. In this section we'll tell you what we are, what we do and how you can join our team.
Who Are We? First, we are civilians and volunteers, authorized by law to augment and support the United States Coast Guard. We have no policing authority and, yes we wear uniforms when on duty. The US Coast Guard Auxiliary (USCGA) is nationwide and is divided into Districts, Regions, Divisions and Flotillas. We are in the 5th District, Southern Region, Division 16, Flotilla 16-01. We currently have 26 members and, aside from boating activities we meet once a month at the Elizabeth City Regional Airport. Division 16 is responsible for the Albemarle Sound and Outer Banks areas. Our Flotilla is responsible for the Pasquotank River, Little River, Perquimans River and that portion of the Albemarle Sound adjoining them.
What Do We Do? We promote boating safety, train our members and augment the active duty Coast Guard. Elizabeth City is in the heart of East Coast Coast Guard activity as Base Elizabeth City is the largest on the East Coast. Most local and long distance rescue operations launch from their base here. Since we are mandated by law to augment the Coast Guard we have to be aware of and follow the same rules they do. As such are members are trained in the same common core subjects such as diversity, organization, customs, and safety. When we go on patrols to assist the "Coasties" our boat crews must be trained and thus we have an extensive (and very good) training program. If you want to learn boating from the "pros" this is where you need to be. Boating safety is our main goal so we are involved in many activities in this area: We teach safe boating courses, give school presentations, perform free boat safety inspections, and patrol boating events.
How Can I Join? To be eligible for membership you must be a U.S. Citizen, at least 17 years old and receive a favorable Personal Security Investigation. Active duty military and veterans with an honorable discharge from service are also eligible. You will need to complete a membership application and pass a new member examination (piece of cake).
If you would like more information or talk to one of our members about joining please Email us at: flotilla16.01@gmail.com