Welcome to the Flotilla 9-12, District 5SR Web Site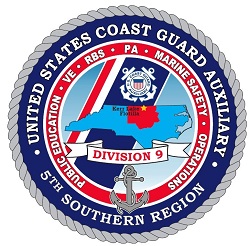 Did you know that
Auxiliarists donate more than 2 million hours annually to benefit other boaters and their families? That's why the US Coast Guard Auxiliary is called America's Volunteer Lifesavers.
The U.S. Coast Guard Auxiliary is the uniformed, all-volunteer civilian component of the United States Coast Guard. The Auxiliary was created by an Act of Congress in 1939, and has grown to over 30,000 members who daily support the Coast Guard in all its non-military, and non-law-enforcement missions. We have members and units in all 50 states, Puerto Rico, the Virgin Islands, American Samoa, and Guam.
We come from all walks of life Tradesmen, Teachers, Professors, Welders, Engineers, Nurses, Computer Technicians, Lawyers, Entrepreneurs, Retirees.

Our trained, experienced instructors, provide Boater Safety, Personal Watercraft, and Paddle Sports Safety Classes.
Our Vessel Examiners provide Courtesy Vessel Safety Examinations to make sure your boat meets all your State Specific Requirements and the US Coast Guard Vessel Safety Standards.

If you get in trouble on the water we are there to assist with regular scheduled safety patrols and search and rescue capabilities by trained Coxswains and Crew members.
We provide boating safety literature to marine dealers, as well as many other activities related to recreational boating safety.

The Auxiliary is more than recreational boating safety; we regularly serve alongside our active-duty shipmates assisting as radio watch standers, uninspected passenger vessel inspectors, training resources for air and sea operations, numerous duties related to environmental protection and homeland security, and even as food specialists. The Auxiliary is open to anyone who is a United States citizen aged 17 or older, and free of felony convictions (a background check is required).

Benefits of Membership: Free advanced boating education training (including Seamanship, Communications, Navigation and Weather), as well as Boat Crew Training, and at least two dozen other "qualifications" open to Auxiliarists. Fellowship and new friends. On the water training including responding to boating emergencies.

If you recently relocated to our area we can assist with area familiarization information to keep you away from navigational hazards.
Want to check us out? It's easy, enter your Zip Code by clicking on "Units" at the top of this page. Join us at our monthly meeting or take a boating class. Use links on the left side of the page to navigate through our site.
We are always looking for new members to wear the Auxiliary uniform and share in the proud traditions and missions of the U.S. Coast Guard Auxiliary and the U.S. Coast Guard. The website includes a lot of information about our programs and services in support of the Coast Guard and other useful items for our members and the boating public.
I invite you to take a look around.
Linda M. Oltz, Webmaster