Join Today!
Join The U.S Coast Guard Auxiliary Flotilla 19-01
When you join the Coast Guard Auxiliary, you could find yourself saving lives, protecting the environment from polluters, guarding our shores from terrorists and much more. That's our job – 24 hours a day, 365 days a year. That's life in the Coast Guard Auxiliary. We don't just train. We train and perform.

Since 1939 the U.S. Coast Guard Auxiliary has safeguarded our Nation's maritime interests in the heartland, in the ports, at sea, and around the globe.
We protect the maritime economy and the environment, we defend our maritime borders, and we save those in peril. This history has forged our character and purpose as America's Maritime Guardian — Always Ready for all hazards and all threats.

Today's U.S. Coast Guard Auxiliary, with nearly 32,000 men and women, is a unique force that carries out an array of responsibilities touching almost every facet of the U.S. maritime environment.
Benefits:
As a member of the U.S. Coast Guard Auxiliary, you will be able to choose from many exciting opportunities for service. You'll be challenged to learn, train, and excel in areas and at levels you may not have thought you were capable of, all at your own pace.

Help save lives -- Through boating safety instruction in the classroom, vessel safety checks, or through on-the-water operations, your direct contribution to public boating safety can, and often does, save lives.
Increase your skills -- Take advantage of advanced training in search & rescue, seamanship, navigation, communications, and patrol. As a member of the Auxiliary there are no fees for these courses.
Put your boat to work -- If you own a boat you may have it certified as a facility to use during patrols and training exercises. You will be reimbursed for fuel consumption.
Support the U.S. Coast Guard -- Become qualified to serve at local Coast Guard units in radio watchstanding, marine environmental protection, Homeland Security, and other operational and administrative support duties.
Sharpen your leadership skills -- Bring your leadership skills to the Auxiliary, or let us teach you how to be a great leader.
Fun and fellowship -- Enjoy the company of fellow Auxiliarists during missions, training exercises, meetings, and social events. We enjoy our work and we enjoy each other's company.
The Coast Guard's motto is Semper Paratus, meaning "Always Ready."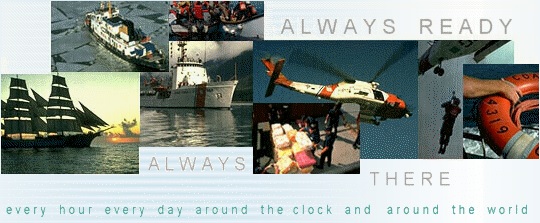 The overarching mission of the U.S. Coast Guard Auxiliary is to contribute to the safety and security of our citizens, ports, waterways and coastal regions. We will balance our missions of Recreational Boating Safety and Coast Guard Support with Maritime Homeland Security and other challenges that emerge as a result of our growing understanding of changes required in the post-9/11 era.
If you have questions about joining Flotilla 053-19-01 please contact Commander Smith.