Flotilla 19-1 Calendar
Upcoming events of Interest to the Flotilla.


Flotilla Meeting
May 16, 2018
Flotilla 19-01's monthly meeting for May will take place on Wednesday, May 16, 2018 at 7:30 PM in the meeting room at Storage Depot located at 321 Milroy Road in Harrisburg.
Watch for announcements regarding fellowship and training prior to the meeting.
Wear Your Life Jacket to Work Day
May 18, 2018
This is a fun opportunity to educate coworkers or building mates about the proper life jacket for them, different styles, and how to use an inflatable life jacket by wearing your life jacket to work! Participants are encouraged to take a picture of themselves in their life jacket while at work and post it to the Ready, Set, Wear It! Facebook page or submit directly to the NSBC at outreach@safeboatingcouncil.org. Participants are also encouraged to tweet their picture using #RSWI2017.

Ready, Set, Wear It!
Life Jacket World Record Day
May 19, 2018


Thousands of people from around the world attempt to set the world record for the most life jackets worn and inflatable life jackets inflated on one day. These events are photographed and documented to record how many people attended and wore their life jacket (verifed by the NSBC). The record to beat this year is 10,917. Find out more information at www.ReadySetWearIt.co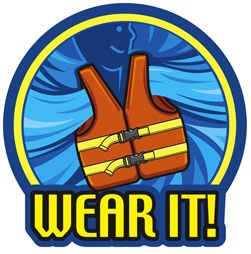 National Safe Boating Week

May 19-25, 2018
---


Coming Events
Summer Picnic
(TBA)
Kipona Festival
Labor Day Weekend
Commander Smith has announced that Flotilla 19-01 will participate in the Kipona Festival which will be held September 1-3 along the Susquehanna River in Harrisburg, PA. Water safety equipment, displays and activities as well as information about Auxiliary membership and service will be available Auxiliarists are needed as volunteers. Interested members should contact Commander Smith.