Welcome to the Flotilla 15-10, District 5NR Web Site
Holiday Party
The 2017 Holiday Party has been scheduled for November 29, 2018 at 1900 hours at Pavinci's at 453 River Styx Road, Hopatcong, New Jersey 07843, phone 973-770-4300
There will not be a December Flotilla Meeting. The next Flotilla meeting will be in January 2018.

Monthly Meetings 2018
Next meeting: January 10, 2018 - 7:30PM
Hopatcong Recreation Department/Senior Center
32 Lakeside Drive, Hopatcong, NJ
Elected Officers for 2018 Announced
During the November Flotilla meeting, nominations and voting for the 2018 Flotilla Officers was conducted. We want to congratulate Klaus Knolmayr for his nomination and acceptance of the Flotilla Commander position and Patrick DeDeo as Vice Flotilla Commander. We look forward to their leadership in 2018. Best wishes for your continued efforts on behalf of the Auxiliary.
Pat DeDeo, the new Vice Flotilla Commander pictured on the left, and Klaus Knollmayr, the new Flotilla Commander on the right. Photo courtesy of R. Carlson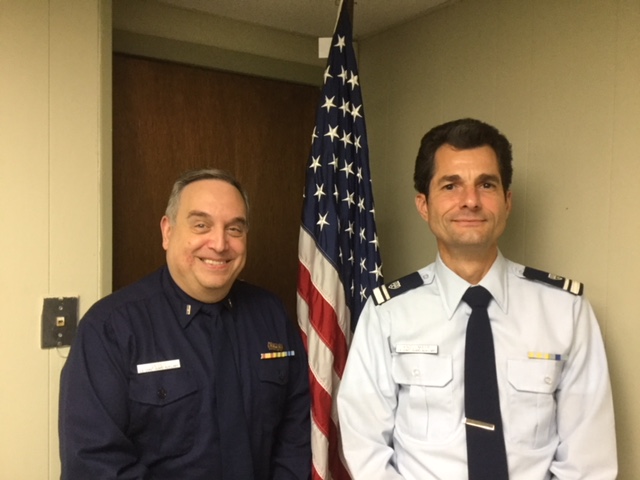 ---
Change of Watch Gathering Announced
The 2018 Change of Watch (COW) has been tentatively scheduled for March TBD, 2018 at Pavinci's at 453 River Styx Road, Hopatcong, New Jersey 07843, phone 973-770-4300
Confirmation and time to be announced at the February Flotilla Meeting.
---
NOW AVAILABLE
Modern Marine Navigation On-line Course

See the Online Courses page in the Boating Courses Tab for details

---
Flotilla Commander's Message...
Thank you for visiting our web site. The Coast Guard Auxiliary, also known as America's Volunteer Lifesavers, encourages you to explore becoming a member and promoting boating safety in our community.
Please contact me to find out more. There are many ways to be active in this organization and there is something for everyone, regardless of your level of experience or abilities.
Learn new skills, while making new friends. We provide complete training for you to become qualified as an instructor, vessel examiner, boat crew member, coxswain and in many other qualifications in support of Coast Guard missions.
By joining the Auxiliary you will be helping your community and will be helping to promote and support recreational boating safety on Lake Hopatcong.
We meet the second Wednesday of each month at 7:30 PM at the Hopatcong Senior Center (Recreation Department), 32 Lakeside Blvd., Hopatcong, NJ. If you are interested in attending a meeting as a guest or to find out more, please contact me at romeoalpha6@yahoo.com.
We invite you to explore our website to learn more about the Auxiliary and our activities. If you are interested in taking a boating course, or having your vessel examined for safety, we are Semper Paratus – Always Ready to assist you. If you would like to join us as a member of Team Coast Guard, we welcome you!
---
Vessel Safety Checks

As the season ends we encourage all boaters to plan on having a Vessel Safety Check in the spring of 2018 to assure you are ready to operate safely during the season. The safety Checks are a free service offered by our Flotilla at various venues around Lake Hopatcong. As we approach the 2018 season, see the "Vessel Safety Checks" page for additional details and to arrange an inspection.

---