Radio Communications (CM) Information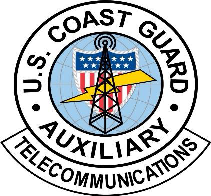 ---
L2 Auxiliary Leadership Link
The digest of US Coast Guard Auxiliary Activity
6 April 2018
Importance:
Medium
To: All
Auxiliarists
New
AUXCOM Course Announcement
The training directorate is pleased to announce the
release of the newly approved Auxiliary communications specialty course
(AUXCOM). Members have until 30 April to complete the current version of
the course and exam before the new training materials and test are released.
Beginning 01 May 2018 the exam will be based on the new materials.
---
D-5NR Monthly Drill [2000 hrs VHF marine drill; 2015 hrs Admin net; 2030 hrs HF drill] every 4th Monday
---
Daniel Amoroso FSO-CM Flotilla 4-7
1. The next TWO (2) HF Net Drills will be held on Monday April 23 , 2018
The D5NR HF
net drill will be at 2030 Local time
The ALL East Coast
net drill will be at 2100 Local time on B5E.
After East Coast check-ins have been logged, the net will be opened to
ALL area check-ins.
A digital Message, in MT63-1000 mode, will be sent on each net so that
facilities
can check their digital receive capabilities.
2.
Central Area Administrative net will be held Monday April 23, 2018 at
2000 hours local on Media narrow band FM repeater.
3.
All members interested in communications program are urged to contact me
at
mailto: w3di@arrl.net
4. Some
new members are interested in the TCO.
Radio Facility Operators (Fixed and Mobile) Qualification Information
To become involved in the U.S. Coast Guard Auxiliary Telecommunications program, applicants must become certified as Telecommunications Operators (TCO). All operators of fixed land and land mobile radios must be certified as TCO, except for those members who completed AUXCOM prior to 1 August 2008. Additional details of the qualification requirements for TCO can be found at this link.
To become involved in the U.S. Coast Guard Auxiliary High Frequency (HF) Program applicant must first be qualified as a Telecommunications Operator (TCO) or have completed AUXCOM prior to 1 August 2008. Prior HF communications experience, either through commercial, military, and or amateur radio experience, will also prove helpful but is not required. Additional details of qualifications for the HF program are at this link. pasting
---
(Free) BoatUS -

MMSI Registration

MMSI LINK Click here>> https://www.boatus.com/mmsi
---