Welcome to the Flotilla 4-7, District 5NR Web Site
Welcome To Marcus Hook Flotilla 053-04-07 (est 1955), Also Home of Division 4 Training Center (AUXTRACEN)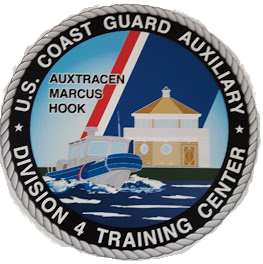 West Delaware Ave, Marcus Hook, PA U.S. 19061
https://goo.gl/maps/rFyoq7NfXTA2 39.811766, -75.411792
On The Delaware River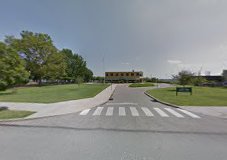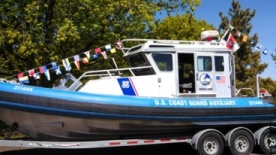 Boating Skills and Seamanship Class...

For Flotilla 04-07 class offerings, contact our FSO-PE (Ken) here...
or for other class offerings, click here...
Special Event Day Info...
Click
here...
for info on this year's Special Event Day!
Join Marcus Hook Flotilla 04-07
Join the Auxiliary
If you are 17 years or older, a United States citizen and have a desire to enhance your boating knowledge, your on-the-water skills, and/or assist the United States Coast Guard in an organized and professional manner, and also have fun, you should consider joining Flotilla 04-07 of the United States Coast Guard Auxiliary!
Do you like to be on the water?

Join our Boat Crew Program!

Prefer to be on land? We need members with varied skill sets too!

Like to be in the air? Join our Air Crew Program!
For membership inquiries,
click here...
to contact the
FSO-HR Dave Moore
he wil be happy to help you.
You can also stop by our meeting as a guest on the 4th Tuesday at 7:30 PM, (1930 Hours) every month (except,July,Dec.) at the address below to learn more and talk in person with our members.
Regular meeting place:
DBRC , 1650 Hewes Ave, P.O. Box 1197, Linwood, PA. 19061 >https://goo.gl/maps/ajUp32KoBJz
Alternate meeting place if no access at DBRC:
Div. 4 Training center, West Delaware Ave, Marcus Hook, Pa. 19061 >MAP >https://goo.gl/maps/rFyoq7NfXTA2 39.811766, -75.411792
Contact Flotilla 4-7
Got a question or comment?