Welcome to the Flotilla 7-5, District 1SR Web Site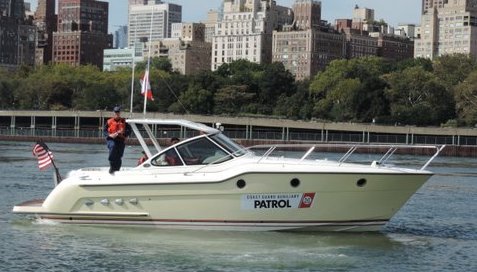 The Flotilla's J34 Storebro on Patrol in the East River
Updated: 17 Oct 2016
Boating Safety Classes
The boating safety class originally scheduled for Saturday, 5 Nov has been moved to Saturday 12 November. As of now, only one person has expressed an interest. We need a few more before we will hold the class, so contact us if you want to attend.
Don't want to spend 8 hours in class all in one day? Consider attending four hours in the morning one day and the remaining four hours in the afternoon on the next scheduled class.
Click here for information on our boating safety class.
Click Here for the 2016 class schedule.
What is the Coast Guard Auxiliary?
The U.S. Coast Guard Auxiliary is the uniformed volunteer component of the United States Coast Guard. The Auxiliary was established by Congress in June, 1939 as the Volunteer Reserve, and conducted many of the Coast Guard's domestic missions while the Active Duty and Reserve components were forward deployed during World War II.
Today, the missions of the Auxiliary are:
To promote and improve Recreational Boating Safety;

To provide a diverse array of specialized skills, trained crews, and capable facilities to augment the Coast Guard and enhance safety and security of our ports, waterways and coastal regions;

To Support Coast Guard operational, administrative and logistical requirements.