Welcome to the Flotilla 7-5, District 1SR Web Site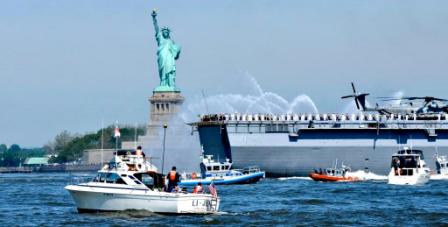 Updated: 4 Feb 2016
Boating Safety Classes
Our Next Class is scheduled for Saturday, 27 February.


Click Here to see the 2016 class schedule.
Click on "Safe Boating Course" in the column on the left for additional information on the class.
---
Can't find a date that fits your schedule? If you can arrange to get at least four people to attend, contact us to see about setting up a class that fits your schedule! Email jmreidy@hotmail.com or leave a message at (914) 698-0323.
---
If you are thinking about attending, but are not ready to commit by registering for class, you should let us know by sending an email to jmreidy@hotmail.com or by leaving a message at (914) 698-0323. Payment in advance is recommended, but not required. Walk-ins are still welcome, but check this site before showing up to insure the class will be taught as scheduled.


What is the Coast Guard Auxiliary?
The United States Coast Guard Auxiliary was established by Congress in June, 1939, to assist the Coast Guard in promoting boating safety. Together by their love of the water and a willingness to serve other boaters. Its members receive special training so that they may be a functional part of Team Coast Guard.