Welcome to the Flotilla 7-2, District 1SR Web Site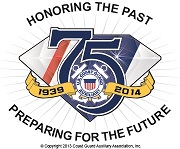 The United States Coast Guard Auxiliary is the uniformed, volunteer civilian component of the United States Coast Guard, established by Congress in 1939 to assist in promoting boating safety. It boasts over 31,000 members from all walks of life who receive special training so that they may serve as an integral part of Team Coast Guard. Auxiliarists donate more than 2 million hours annually to benefit other boaters and their families, assisting the Coast Guard in all its missions except direct law enforcement and military action.
Flotilla 72, based in Norwalk CT, was founded in 1942 to carry out this mission in the area of Norwalk, Darien, and Westport, although we often are assigned missions beyond this area. We proudly carry on the Auxiliary's tradition of public service through one of the most active Flotillas in the Northeast.
We provide the best in public boating education and perform Vessel Safety Checks, on-water safety patrols, search and rescue missions, marine safety and environmental protection, and cross-training duties with active duty and reserve Coast Guard personnel.
The Auxiliary's ability to provide these boating safety programs is based on the ongoing development of key skills among its members. Our volunteers receive expert training in how to teach novice boaters the basics of seamanship and advanced boaters the finer points of navigation. We learn how to inspect recreational vessels for adequate safety equipment. Our hands-on training for a variety of on-water missions is conducted to standards established by the U.S. Coast Guard.
If you are motivated to make your own contribution to boating safety through Flotilla 72, the Auxiliary offers many options for you to get involved. Whether you can spare one hour a week or 40, we can provide you the chance to promote safe boating as well as to extend your own training, both on and off the water. The main prerequisite is your willingness to participate.
To find out more, give us a call today at 203 838-1200 or click on "Join us now" in the top menu bar. Better yet, stop by and visit us at our next monthly meeting. We meet on the second Tuesday of each month at 1930 (7:30 pm) in the Dominic Lametta Training Center at Norwalk's Calf Pasture Beach (see "Our Location"). We look forward to seeing you there.



Contact the Webmaster